Cool Hand Luke (1-Nov-1967)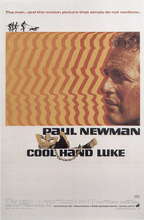 Director: Stuart Rosenberg
Writers: Donn Pearce; Frank R. Pierson
From novel: Cool Hand Luke by Donn Pearce
Music by: Lalo Schifrin
Producer: Gordon Carroll




An aimless drifter who won a Bronze Star in WWII receives a two-year prison sentence for cutting the tops off of parking meters. Serving on a chain gang, he has repeated issues with conformity, earning him stays in solitary and the eventual admiration of fellow prisoners, admiration that he explicitly rejects. One of Paul Newman's most memorable performances. George Kennedy won Best Supporting Actor Oscar; the film received nominations for 3 others including Best Actor and Best Screenplay.
CAST
REVIEWS
Review by Gary Page (posted on 16-Nov-2007)
To paraphrase Strother Martin's prison captain character in the movie, "What we ain't got here is failure to communicate!" This film stands at the top of stairs and looks out over the also-rans for 1967. Paul Newman is at his best as a likable, street-wise, normal guy that was in the wrong place at the wrong time. Sentenced to a southern chain gang for destroying municipal property while intoxicated, Luke finds himself the center of the work farm focus as he tries to remain normal in a very abnormal setting. From his focused and convincing bluff in poker (which earned him the nickname, "Cool Hand"), to his numerous attempts of escape from prison, Cool Hand Luke shows all of us the true meaning of perseverance. George Kennedy and Strother Martin add their strong supporting roles to a gem by Newman in this entertaining, poignant, and in-depth look at one man's view of freedom and individuality. A definate four star film that is equal to any of Newman's best efforts.
---
Do you know something we don't?
Submit a correction or make a comment about this profile

Copyright ©2016 Soylent Communications