Apocalypse Now (15-Aug-1979)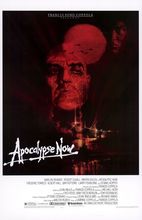 Director: Francis Ford Coppola
Writers: John Milius; Francis Ford Coppola
From novel: Heart of Darkness by Joseph Conrad
Music by: Carmine Coppola; Francis Ford Coppola
Producer: Francis Ford Coppola
Keywords: Action/Adventure, Vietnam War, Explosions, Assassination




Capt. Willard receives the assignment to journey upriver in the Cambodian jungle and "terminate... with extreme prejudice" Col. Kurtz, a highly decorated Green Beret who has not only gone AWOL but has been running his own private army of tribals. Loose adaptation of Joseph Conrad's Heart of Darkness. Won Oscars for Best Cinematography and Best Sound; received nominations for Best Picture, Best Director, Best Supporting Actor, Best Screenplay, Best Editing and Best Set Decoration. Watch the 1979 version, not the much-inferior 2001 re-release, which is an abomination.
[watch trailer]
CAST
Marlon Brando
... Col. Kurtz
Robert Duvall
... Lt. Col. Kilgore
Martin Sheen
... Capt. Willard
Also Starring
Frederic Forrest
... Chef
Albert Hall
... Chief
Sam Bottoms
... Lance
Laurence Fishburne
... Clean
and
Dennis Hopper
... Photo Journalist
Co-Starring
G. D. Spradlin
... General
Harrison Ford
... Colonel
Jerry Ziesmer
... Civilian
Scott Glenn
... Colby
Bo Byers
... Sergeant MP #1
James Keane
... Kilgore's Gunner
Kerry Rossall
... Mike from San Diego
Ron McQueen
... Injured Soldier
Tom Mason
... Supply Sergeant
Cynthia Wood
... Playmate of the Year
Colleen Camp
... Playmate
Linda Carpenter
... Playmate
Jack Thibeau
... Soldier in Trench
Glenn Walken
... Lt. Carlsen
George Cantero
... Soldier with Suitcase
Damien Leake
... Machine Gunner
Herb Rice
... Roach
William Upton
... Spotter
Larry Carney
... Sergeant MP #2
Marc Coppola
... AFRS announcer
Daniel Kiewit
... Major from New Jersey
Father Elias
... Catholic Priest
Bill Graham
... Agent
Hattie James
... Clean's Mother (voice)
Jerry Ross
... Johnny from Malibu
Dick White
... Helicopter Pilot
REVIEWS
Review by anonymous (posted on 12-Nov-2006)
In 1977, Francis Ford Coppola disappeared into the Philippine jungle and emerged 2 years later with this film, certainly his greatest work. Based on Joseph Conrad's Heart of Darkness, the cameras follow Captain Willard (Martin Sheen) as he journeys upriver in search of the mysterious Colonel Kurtz (Marlon Brando). The film opens with a drunk and humble Captain Willard in a hotel room. We quickly gain understanding of who Willard is, and what he wants: a mission. "It was a real choice mission, and when it was over, he'd never want another." He's brought into base and given his destination, the heart of the Cambodian jungle, to terminate the command of Colonel Kurtz, who we discover has gone completely insane, and has ranked himself as a God among a small Cambodian tribe. Willard is given a boat, owned and captained by Chief Phillips (Albert Hall). Willards crew is made up of mostly kids, just out of high school, and unprepared for what awaits them. None of the crew members know Willards destination, due to it's confidentiality, so until they arrive, Willard is just going along for the ride. One the journey to Kurtz, we meet Bill Killgore (Robert Duvall), a war-hungry Colonel, who has a fascination with violence, bravery, and surfing. Killgore is assigned to transport Willards boat by helicopter down river. Two crew members less, Willard arrives at the Kurtz Compound, in one of the most notorious and unforgettable scenes in cinematic history. Willard is brought in to the lair, and sees the shadow of the man he had been searching for. Willard says earlier in the film that when he saw Kurtz, he would know what to do. After arriving, he wasn't sure. Willard is fascinated with Kurtz. Kurtz tells Willard of the horrors that he has seen, things that the audiance members could only pray to never witness for themselves. Willard soon knows that Kurtz is no longer a man. He has lost his soul. Willard knew what he had to do, and did just that, in one of the darkest endings of all time. After it's over, there is no closing monologue, no last thoughts from Willard, or a reflection of what he's just done. There's silence. Coppola leaves us with no reflection, which tells us that there's nothing more to say. Without doubt, the gem in Coppola's career and one of the greatest films of all time, Apocalypse Now leaves the audiance the same way that it leaves Willard, speechless. It's the insane beauty of Apocalpyse Now that makes it a masterwork of cinema and says more in its running time about the brutality of conflict and the hypocrisy of politicians than Michael Moore could hope to say in a lifetime.
---
Do you know something we don't?
Submit a correction or make a comment about this profile

Copyright ©2019 Soylent Communications