Birdman of Alcatraz (3-Jul-1962)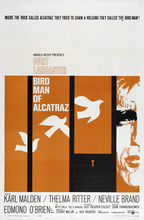 Director: John Frankenheimer
Writer: Guy Trosper
Based on a book: Birdman of Alcatraz by Thomas E. Gaddis
Music by: Elmer Bernstein
Producers: Stuart Millar; Guy Trosper
Keywords: True Crime, Prison, San Francisco, Alcatraz, Biography




Convicted murderer Robert Stroud serves a life sentence at several prisons including Alcatraz. During his incarceration he gains expertise in birds and bird diseases. Stroud's nasty life is toned down to make his story more palatable to theatergoers. Brilliantly acted prison drama. Received Oscar nominations for Best Actor and Supporting Actor, Best Supporting Actress, and Best Cinematography.
[watch trailer]
CAST
REVIEWS
Review by Mark J. Shallow (posted on 12-Dec-2008)
Two years prior to making this film, Burt Lancaster earned an Academy Award for his role as the ertswhile tent preacher, Elmer Gantry. Though his acting chops (and his toothsome smile) were given full play in the film, he gives a much richer and vastly more interesting characterization in BIRDMAN OF ALCATRAZ. Based on the story of Robert Stroud, a man convicted of two murders, the film tells in compelling detail how this hardened criminal became the embodiment of what penal authorities are pleased to call rehabilitation. In Lancaster's hands, we are treated to the sight of a man with little or no feeling for any human being (save his mother) grow into someone who has, in the words of the script, "a deep and private love for his birds". Lancaster brilliatly captures the arc of this convict's life. His utter contempt toward the world is in plain view, yet Lancaster manages to gain the sympathy of the audience for Stroud. By wisely choosing to underplay many of his scenes, Lancaster allows us to home in on Stroud's anger, his bitterness and, in time, a genuine tenderness toward the creatures who have done for him what the prison system could not: namely, restore his membership to the human race. In a career lasting nearly half a century, this film stands out as Burt Lancaster's greatest achievement.
---
Do you know something we don't?
Submit a correction or make a comment about this profile

Copyright ©2019 Soylent Communications