Meet Joe Black (2-Nov-1998)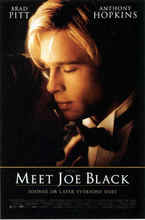 Director: Martin Brest
Writers: Ron Osborn; Jeff Reno; Kevin Wade; Bo Goldman
Music by: Thomas Newman
Producer: Martin Brest
Keywords: Dark Comedy, Grim Reaper




Media mogul William Parrish's time has come, but the Grim Reaper, personified as Joe Black, allows him more time such that Death may experience what it means to live as a human. Joe Black is now always at Parrish's side, deeply involved in all aspects of his life. Beautifully filmed, long and sometimes slow-moving but worth the effort. Compare also Death Takes a Holiday (1934), which evidently inspired this film.
CAST
Brad Pitt
... Joe Black
Anthony Hopkins
... William Parrish
Claire Forlani
... Susan Parrish
Jake Weber
... Drew
Marcia Gay Harden
... Allison
Jeffrey Tambor
... Quince
David S. Howard
... Eddie Sloane
Lois Kelly-Miller
... Jamaican Woman
Jahnni St. John
... Jamaican Woman's Daughter
Richard Clarke
... Butler
Marylouise Burke
... Lillian
Diane Kagan
... Jennifer
June Squibb
... Helen
Gene Canfield
... Construction Foreman
Suzanne Hevner
... Florist
Steve Coats
... Electrician
Madeline N. Balmaceda
... Madeline
Julie Lund
... Drew's Secretary
Kay Gaffney
... Boardmember
Anthony Kane
... Boardmember
Joe H. Lamb
... Boardmember
Robert C. Lee
... Boardmember
Jim McNickle
... Boardmember
Hardy Phippen, Jr.
... Boardmember
Stephen Adly Guirgis
... Hospital Receptionist
Leo Marks
... Party Waiter
Michelle Youell
... Party Guest
Gene Leverone
... Party Guest
REVIEWS
Review by Larry (posted on 9-Feb-2005)
Without a doubt a movie that pulls you in. A detailed work that will take you into a multi-layered plot that you cannot wait for the next scene to emerge. So believable that you watch it again and again. A real gem that provokes the human condition concerning death and what may happen when it arrives. Four star rating.
---
Do you know something we don't?
Submit a correction or make a comment about this profile

Copyright ©2019 Soylent Communications