The Green Mile (6-Dec-1999)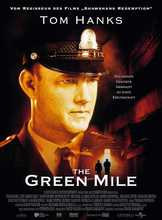 Director: Frank Darabont
Writer: Frank Darabont
From novel: The Green Mile by Stephen King
Music by: Thomas Newman
Producers: David Valdes; Frank Darabont
Keywords: Drama, Prison, Death Row, Mice




Told as a flashback to the 1930s, a monumentally large black man sits on Death Row, convicted of the double rape and murder of two young girls. Timid and soft-spoken, it is difficult to believe this man could have committed those crimes; further, it is found that he has special curative powers. Received nominations for four Oscars, including Best Picture, Best Screenplay, and Best Actor.
[watch trailer]
CAST
REVIEWS
Review by Walter Frith (posted on 9-Jun-2007)
Director Frank Darabont's 1994 classic 'The Shawshank Redemption' has become such a hit with the public that it's incredible the way people still talk about it five and six years after its release. It received seven Oscar nominations including one for best picture but didn't win in any category. Initially a box office flop with a take of only 28 million dollars, the film gained steam in the second run media such as home video, pay t.v., and recently, on a much welcomed DVD. Consistently maintaining a position in the top 5 on the Internet Movie Database's top 250 films of all time, and right up their in the opinion of film buff's with films such as 'The Godfather', 'Schindler's List', 'Casablanca' and 'Citizen Kane', 'The Shawshank Redemption' now provides Darabont with a variation on that film. Like 'The Shawshank Redemption', 'The Green Mile' is also based on a Stephen King novel (and is written for the screen by Frank Darabont) and is a prison film set in the past but with a twist, it's about miracles and the presence of supernatural goodness witnessed by guards and inmates on a death row section of prison in the south in the middle of the 1930's. The title of the film refers to the surface of the floor on death row, covered with green tile and that walk to the electric chair can certainly seem like a mile with the thought of where you will spend eternity hanging in the balance. The film begins in the present day where a nursing home patient reflects on his past and then we go there to see that as a young man he is portrayed by Tom Hanks who stars as Paul Edgecomb, the head of the death row guards. Included in the men under him are Brutus "Brutal" Howell (David Morse) and the slimy and weasel like Percy (Doug Hutchinson) who has connections in government and can have any job the state offers and wants to be a prison guard because he views prison as a "bucket of pi** to drown rats in". Hutchinson provided many chills for me in the first season of television's 'The X-Files' in 1993-94 in an episode and later in that same season, a sequel to it where he played a liver eating mutant over a hundred years old but looking like a man in his early thirties. Sort of an alternative vampire if you will. The conflicts of duty and conduct on the job for these death row guards makes the story watchable every second and their eventual fates are just what the audience deserves to see. One day, a prisoner is brought in. He is a large black man named John Coffey and is seemingly over seven feet tall (Michael Clarke Duncan in an Oscar-worthy role). He is set to be executed but his nature convinces Edgecomb he is innocent of the crime he was convicted for.....murder. We see that he has healing powers so great, they are almost God like in helping many people shake off their physical ailments such as a urinary track problem that Edgecomb suffers from. Darabont structures his film in three parts. The execution of three prisoners, one white, one native-American and the other black, all separated about an hour apart over the film's three hour running time and the movie has an anti-climax about hope, faith and showing an eventual injustice by the time it's all over. In many ways, the film is better directed than 'The Shawshank Redemption' since the story is more confined and it is harder for Darabont to find avenues of interest and the film looks like a play in many spots and its deliberate slow pace at times is reflective of the very nature of death row, a process that takes far too much time in the minds of many, especially those convicted and the surviving members of a victim's loved ones. 'The Green Mile' is filled with little elements of detail about the day to day life of both prison guards and inmates and its humanity is countered by the prejudices and injustices of a darker time where justice seemed to often be discarded for the sake of comforting those desperate for a conviction. Something that really hasn't changed in many situations all that much after all these years gone by. As of the date of this review, (February 7, 2000), the state of Illinois has recently suspended the death penalty to look into flaws in the system where many more people than first thought on death row may actually be innocent. 'The Green Mile' is one of 1999's best films because it centers on making the film entertainment and emotion first and social commentary second. After all, the movies should often provide us with thoughts other than those in our own world and Stephen King's touch of the supernatural in this film gives us an alternative and original look that can make us feel somewhat good about a bleak and tragic situation. Visit FILM FOLLOW-UP by Walter Frith
---
Review by Raymond Chaput (posted on 4-Apr-2009)
Once in a great while a film comes along whose story or performances, or both, lays bare ones emotions. The Green Mile is a perfect example. Sometimes a great injustice emerges from such a film. In this case, it is that Michael Duncan did not receive an academy award for his role as John Coffey. One never gets a sense that Duncan is "acting," but rather, is the real John Coffey living out his own character. One sees in his eyes and hears in his wonderful voice, all the emotions and frustrations of his character. If I had the power, this man would receive his superbly earned Oscar even if it is twenty years after the fact. Those who played the role of the guards were not the only ones crying at Coffey's execution. The words of Coffey were intensely scripted and delivered by Duncan. God, that Duncan was great. Also, the casting was superb, as was the writing and directing. The mouse, old and still in his cigar box at the end of the film, was a wonderful idea in realizing and understanding the reality of the old age of Paul Edgecomb for reasons Edgecomb wasn't even sure about, except for directing the orders for the switches to be turned on at Coffey's execution. The aged mouse part was unexpected and beautifully fitted into why Edgecomb was destined to live a very long time. All the mouse scenes were very well photographed. Maybe Tom Hanks can drum up some support for getting Michael Duncan a delayed oscar, and the mouse the best actor in a supporting role. A great film by everybody involved.
---
Review by John Mailer (posted on 19-Feb-2005)
In this film, half your house is guaranteed to be sold out for flooding; it is really emotional.
The story is of a man wrongly convicted of murdering two girls, John Coffey (Michael Clark Duncan). He portrays a hulk of a big black guy, yet, like most slightly overgrown men turn out to be in films, he's a really nice guy. Police officers on Death Row, where he is, know his innocence, and he gains their sympathy, yet he won't admit he didn't wrong-do, and in a last, tearjerking scene, he dies in the electric chair.
Although there are subplots, the story is brilliant. It won't disappoint.
---
Do you know something we don't?
Submit a correction or make a comment about this profile

Copyright ©2019 Soylent Communications