Fight Club (6-Oct-1999)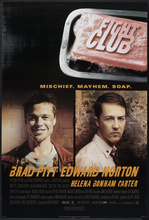 Director: David Fincher
Writer: Jim Uhls
From novel: Fight Club by Chuck Palahniuk
Keywords: Action/Adventure, Dark Comedy, Boxing, Multiple Personalities, Cult, Starbucks, Explosions




Jack, an ordinary white-collar corporate knob addicted to self-help meetings crosses paths with the enigmatic Marla Singer and nihilistic soap salesman Tyler Durden. After Tyler asks Jack to hit him, an infectious catharsis is unleashed and the pair organize an underground "fight club", the first rule of which is: Don't talk about Fight Club. The three become a love triangle as Tyler transforms the Fight Club infrastructure into a rebellion against consumerism. Stylish and violent, a remarkable film that bears multiple viewings.
[watch trailer]
REVIEWS
Review by Lisa Chandel (posted on 5-Jun-2007)
This is by far one of the greatest movies to come out of the nineties. David Fincher's portrays Chuck Palahnuik's novel Fight Club with the dark grit, and explicit brutality that made the author proud. Edward Norton's character stays unnamed through the film, he is called "Jack" by Fincher in the bonus features o the DVD. interacting on a personal level with only with Tyler Dirden a soup salesmen who he meets on the plain ride back home from a business trip and woman named Marla who he met at a twelve step program. When his apartment mysteriously explodes, he stays at Tyler's house. Before long they form the fight club, and they find that their club quickly becomes very popular. Than Marla begins to seep back into "Jack"'s life, fight club seems to become much more organized than he had anticipated and Tyler seems to have bigger plans than weekly freestyle boxing matches. The movie touches on how materialism and commercialism has brought society to it's knees, and how the majority of people forced to suppress there more primal emotions are left feeling dead and forgotten. Erased by apathy the only way they can fill there empty lives is with consumerism and materialism. Man needs to tear down the cage of modernization that he has built for himself, that is Dirden's philosophy, but does "Jack" agree? And what happens when someone that "Jack" genuinely cares about becomes a threat in Tyler's eyes. Than what happens to "Jack"'s priorities.
---
Review by Walter Frith (posted on 9-Jun-2007)
'Fight Club' tells the story of urban paranoia in perhaps the best way I've seen since Martin Scorsese's 'Taxi Driver' in 1976. The film tries every possible way to shock the audience with dread, visual excrement, free flowing ideas and morbid theories and a protagonist whose very existence is so far beyond pathetic, that it seems not of this world. The movie is a product of director David Fincher, a man whose films are so ugly, they often miss the real point they're trying to make. Fincher has been a music video director and cuts his motion pictures rapidly with visual tricks and plays with his film a bit too much in the cutting room. 'Alien 3' was Fincher's first real notice and it received mostly negative reviews. His hugely commercial 'Seven' in 1995 had its high points and low points and came across as a cult like version of 'The Silence of the Lambs' with Kevin Spacey being the only stand out member of the cast. 'The Game' with Michael Douglas and Sean Penn in 1997 was like touring a broken down fun house and now Fincher has released his most controversial film to date with 'Fight Club'. You simply can't say enough good things about Edward Norton. His enormous talent as an actor is matched only by the fact that he chooses his films carefully and makes the most of his characterizations. His next move should be to act alongside a Newman, a Duvall or a Hoffman the way Tom Cruise has because since Tom Cruise has held his own with those actors, imagine what Norton could do! In 'Fight Club' he is Jack, our narrator and friend who works for a major car manufacturer and hates his job, his boss and his surroundings. On a business flight one night he meets Tyler Durden (Brad Pitt), a soap manufacturer and salesman who befriends Norton and we later see a strange twist in their relationship that plays with Norton's mind better than most psychological thrillers of its type. After Jack's condo is terrorized by a bombing, Tyler puts him up at his place and the two of them form a strange group of other angry, young to middle aged men who have similar lives and call it "fight club". It's an organization of counter culture where unorthodox, bare fisted fights occur and anything goes in the manly art of self defense. Others gather around as two selected members of the group fight and they have very strict rules about the sacred order of the club. Jack also has many problems. His lack of friends forces him sub consciously to attend support groups where people suffer from many diseases and disorders. One is for a group of men with testicular cancer and Jack becomes involved with Robert Paulson (Meat Loaf), a man who later becomes a member of the club. Jack also meets Marla Singer, a woman with no life who lives in poverty, smokes herself in a way that may lead to an early grave and she has no direction in her life. "Fight club" eventually makes its way into many major cities around the United States and borders on becoming a terrorist organization striking at the very heart of commerce and financial viability. Fincher makes the most of his wide screen presentation and uses the ratio very well in structuring his film technically that bends and stretches the limits of the human mind and shows just how much of an emery it can become in each of us. 'Fight Club' may seem a bit lengthy but it does sit well as it never seems repetitive and always has a few goodies up its sleeve. The controversy surrounding 'Fight Club' will become gigantic. It's not a film for the casual movie goer. Its hard core presentation is unsparing. It goes for the jugular the way 'A Clockwork Orange', 'Do the Right Thing' and 'JFK' did. It's also a film that will sit well with cult film historians who have appreciated such films as 'Eraserhead', 'The Rocky Horror Picture Show' and 'Blue Velvet'. The film's screenplay is by Jim Uhls, based on the novel by Chuck Palahniuk. There are many layers of human nature mixed with a perspective view of life at the bottom of the world and reflects just how many people are increasingly desperate in their lives, striving for something better and realizing that opportunities for success are in many cases, closed doors in their lives and an alternative for their ambitions must be found. Although Brad Pitt receives first billing, his character resembles much of the psychotic tumbling found in his performance in '12 Monkeys' but Pitt does a good job with what he's given here. Again, this film belongs to Edward Norton. I hope he receives his third Oscar nomination with this film as he is destined to certainly win one some day if there is any justice. Visit FILM FOLLOW-UP by Walter Frith
---
Do you know something we don't?
Submit a correction or make a comment about this profile

Copyright ©2019 Soylent Communications