The Salton Sea (23-Apr-2002)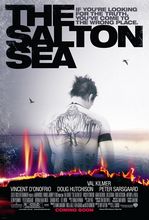 Director: D. J. Caruso
Writer: Tony Gayton
Music by: Thomas Newman
Producers: Frank Darabont; Eriq La Salle; Ken Aguado; Butch Robinson
Keywords: Crime




A man immerses himself in a twisted world of drugs and criminals after the murder of his beloved wife.
ABSTRACT
Once-respectable trumpet player Danny Parker plunges into Southern California's seedy methamphetamine-tinged underworld of "tweakers" and brutal crime after the unsolved murder of his beloved wife, killing his ego and everything he once stood for in an attempt to uncover the mystery behind her death. The Salton Sea follows Danny, operating undercover for a pair of hard-nosed cops, as he rubs shoulders with and antagonizes some of Southern California's biggest creeps and crooks in the course of solving the crime.
[watch trailer]
CAST
Val Kilmer
... Danny / Tom
Vincent D'Onofrio
... Pooh-Bear
Adam Goldberg
... Kujo
Luis Guzmán
... Quincy
Doug Hutchison
... Morgan
Anthony LaPaglia
... Garcetti
Glenn Plummer
... Bobby
Peter Sarsgaard
... Jimmy the Finn
Deborah Kara Unger
... Colette
Chandra West
... Liz
B. D. Wong
... Bubba
R. Lee Ermey
... Verne Plummer
Shalom Harlow
... Nancy
Shirley Knight
... Nancy Plummer
Meat Loaf
... Bo
Azura Skye
... Teresa
Josh Todd
... Big Bill
Danny Trejo
... Little Bill
Ricky Trammell
... Creeper
Kenji Nakamura
... Kamikaze Pilot
Paula Scarpino
... 50's Housewife
Mike Randleman
... 60's Trucker
Justine Visone
... Supermarket Cashier
Jerry Gauny
... Freak Cook
Tanner Giles
... Bobby's Daughter
Rachel Ezra
... Bobby's Girlfriend
Mpho Koaho
... Kid Selling Guns
Chuck Kuespert
... Bar Owner
Charles Carroll
... Zapruder
Lee Holmes
... Oswald
Val Lauren
... Third Shooter
Tom Fitzpatrick
... Karaoke Man
Christian Fletcher
... Stool Sample Courier
Bob Brown
... Man in Salton Sea House
Dana Lynn Caruso
... Female FBI Agent
René Rivera
... FBI Agent One
Kevin Quinn
... FBI Agent Two
Rex Linn
... Det. Bookman
Al Barker, Jr.
... FBI Agent Repairing Motel Sign
Doc Duhame
... Skipper
REVIEWS
Review by Ouida Phillips (posted on 9-Sep-2005)
The Salton Sea rates a statement I have only made about two movies: It will stay with you the rest of your life. It is dark, disturbing, completely mesmerizing, completely shocking, but you can't look away. The precision of the actors is surgical in execution; there is not a single scene overplayed, yet every one pumps the depths and full drama of this better-than-classic film noir. If you like powerful performances (and can handle strong visuals), SEE THIS MOVIE. It has to be the most underrated film of our time.
---
Review by Mizi Causevic (posted on 13-Feb-2005)
An extremely under-rated film that should be seen by fans of Memento and Requiem For A Dream, not because the story itself is really good, but also for a strong performance from Val Kilmer who was almost bordering the 'what the hell happened to that guy' wagon. Luckily he has picked the right movie to do and didn't sign on for another Batman, whew.
It just bugs me that movies like this get a limited release across the nation and crap like Jeepers Creepers make over 30 million and also get a sequel. That is just wrong, where are those cinema snobs when you really need them? Put a stop to Hollywood trash and let movies like Salton Sea be seen nationwide!
A highly original and an interesting film about 'tweakers'. More so about Val Kilmer's (The Saint, Batman Forever, The Doors) character Danny Parker and his other persona Tom Van Allen, a tweaker trapped in the world of drugs and sanity. A guy who has lost his wife due to a drug-related shooting, ironically enough he turned to drugs to escape the pain. The story is a big puddle of deception, drugs, lies and murder. I would love to summarize it to a simpler liking but this movie has so many twists and turns than your average summer slasher! Val Kilmer captures your attention and really makes you believe that he is the character that he is playing. (Almost like the way Brad Pitt did in Se7en). We also get Poo-Bear played by Vincent D'Onofrio (Impostor, The Cell, Chelsea Walls) who looks almost unrecognizable (he has no fucking nose!), all in all, he plays one of the most original characters I have seen in awhile, I was as close to say a really memorable bad guy but no.. all in all, whatever you wanna call it, it's extremely memorable and original.
It is really sad that this movie was unnoticed. Although this plot might make you think like it is a typical drug related movie it really isn't. It illustrates various sides of human emotion that are rarely seen in movies nowadays. Not only was it for good for it portrayal of human emotion and development of certain characters, but the scenery in this film seemed like it was taken out of a painter's mind. Aside of this, the music fits the imagery of the movie so well that you begin to appreciate this movie on much deeper levels. Sadly, this movie will find it's way through true film fans, I'm not sure if that's a good thing or not but I do know that this movie is definitely worth a rental.
---
Do you know something we don't?
Submit a correction or make a comment about this profile

Copyright ©2019 Soylent Communications