Boys Don't Cry (1-Oct-1999)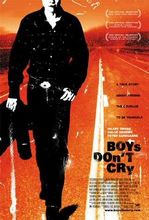 Director: Kimberly Peirce
Writers: Kimberly Peirce; Andy Bienen
Music by: Nathan Larson
Producers: Jeffrey Sharp; John Hart; Eva Kolodner; Christine Vachon
Keywords: Drama, Biography, Crossdressing, Gay Bashing, Rape




In smalltown Nebraska, 20-year-old Teena Brandon, biological female, manipulates her physical features and becomes a boy with the name Brandon Teena; he and Lana Tisdel fall in love, though Brandon has hidden his true nature. Compelling and painful art-house drama based on the true events from 1993. Won an Oscar for Best Actress; received also a nomination for Best Supporting Actress.
CAST
Hilary Swank
... Brandon Teena
Chloe Sevigny
... Lana Tisdel
Peter Sarsgaard
... John Lotter
Brendan Sexton III
... Tom Nissen
Alison Folland
... Kate
Alicia Goranson
... Candace
Matt McGrath
... Lonny
Rob Campbell
... Brian
and
Jeanetta Arnette
... Lana's Mom
Cheyenne Rushing
... Nicole
Robert Prentiss
... Trucker
Josh Ridgway
... Kwik Stop Cashier
Craig Erickson
... Trucker in Kwik Stop
Stephanie Sechrist
... April
Jerry Haynes
... Judge
Lou Perryman
... Sheriff
Lisa Wilson
... Pam
Jackson Kane
... Sam Phillips
Joseph Gibson
... Tom
Michael Tripp
... Nerdy Teen
Shana McClendon
... Girl in Car
Libby Villari
... Nurse
Paige Carl Griggs
... Dave (Deputy)
Gail Cronauer
... Clerk
REVIEWS
Review by anonymous (posted on 20-Apr-2005)
I loved this movie. I have a brother who is gay and we too come from a small town. It proves how people who are confused about their sexuality are treated and how small minded people think. I rated this four stars because the actors in this movie did and outstanding job proving just how hard trying to fit in can be. RIP Teena Brandon... you're always in my heart.
---
Review by Walter Frith (posted on 9-Jun-2007)
The untimely death of Matthew Sheppard in Wyoming a few years ago made headlines around the world. Sheppard was killed for no other reason other than the fact that he was gay. 'Boys Don't Cry' focuses on the same subject matter and reverses genders in its story of friendship gone terribly wrong and is also based on a true story. It attempts to follow a similar path in the way it looks pursuant to the 1991 film 'My Own Private Idaho' which starred Keanu Reeves and River Phoenix. That film was about a male prostitute making his way around the country and finding whoever he could in order to make a living selling his body. While different from 'Boys Don't Cry' in its subject matter, it still looks and feels very similar. Actress Hilary Swank is scooping up virtually every major award for her portrayal of Teena Brandon, a lonely ne'er-do-well that has had run ins with the law and is struggling sexually to find her identity. She tries to pass herself off as Brandon Teena, a man, and falls in love with someone that provides tragic consequences. The film did disappoint me somewhat by surrounding itself with American mid-western folks perceived as white trash. Some, of course, are but there is good and bad in everyone and the film has no positive characters in it, they are all deeply flawed individuals so this makes the challenge of telling the story an uphill battle by putting the audience in a very bleak story that will stay in their minds long after the curtain drops. The characters in the film smoke too much, drink too much (which includes giving beer to infants), dress typically trashy and act with little regard for self respect, let alone respect for anyone else. I suppose if the story is true, the right circumstances have to be re-created but it still left me saying "*blah*". The saving grace of this film is the acting. Teena Brandon (Hilary Swank) is seen near the beginning of the film fleeing from rednecks that want to kill her after she comes on as a man to a young teenaged girl and has to hide with a friend who will protect her. She has a date in court but may not show up which could lead to a bench warrant issued for her arrest. Teena Brandon now becomes Brandon Teena as she passes herself off as a man and makes friends with some equally ne'er-do-wells. There are Tom and John (Brandon Sexton III and Peter Sarsgaard) and the girl Teena falls in love with, Lana (Chloe Sevigny), who is the only person that truly understands Teena and her performance is a great supporting effort with good chemistry along side Hilary Swank and the two of them are Oscar bound. They (all the young, free-minded characters) joy ride without seat belts while drinking, the girls wear too much make-up and look like they have had one too many trips to the local donut shop and the mother of one of the girls shows exactly where this bad behaviour on the part of her daughter and her friends came from. The film is a series of emotions expressed by all members of the cast as Teena's masquerade begins to fall apart and many hateful and eventually harmful things happen to her. The film is progressively honest and doesn't hold one false note in its portrayal of these people and sophomore director Kimberly Peirce (1994's 'The Last Good Breath') has found a raw and pinching nerve to rely on that grabs the audience by the collar and doesn't let them go. The film is bound to generate controversy. There is a rape scene that reminded me of 1988's 'The Accused' with Jodie Foster. That film had Foster being gang raped after teasing some men in a bar and some wondered if it was really necessary to show the actual rape scene rather than imagine what it would have been like for the victim. Sometimes what we don't see on the screen can actually be more powerful than what we do see if the actors can convey their emotions and act out the stories they are telling. The audience I saw 'Boys Don't Cry' with sat stone faced through its running time. I saw it at an art house with few seats in the theatre, and with a crowd that obviously knows how to appreciate a small, honest and low budgeted film like this. Definitely not a mainstream motion picture, its conclusion will be discussed for years among knowledgeable movie fans who see the performances as a work of art and the work of true professionals. There is Oscar buzz being generated and the cast deserves one big Oscar as none of them do it alone. Uniquely satisfying! Visit FILM FOLLOW-UP by Walter Frith
---
Do you know something we don't?
Submit a correction or make a comment about this profile

Copyright ©2019 Soylent Communications