The Green Berets (17-Jun-1968)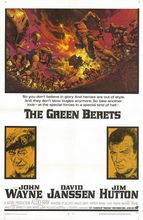 Directors: John Wayne; Ray Kellogg
Writer: James Lee Barrett
From novel: The Green Berets by Robin Moore
Music by: Miklos Rozsa
Producer: Michael Wayne
Keywords: Action/Adventure, Vietnam War




Two stories: In the first part, base camp "Dodge City" trains ARVN officers and suffers attack from the Vietcong. The second part, unrelated to the first, has a team of Green Berets parachute behind enemy lines and capture a Vietcong general. The only film about this war told from a pro-war perspective. Released in Summer 1968 at the height of the controversy regarding the war; months earlier the Tet Offensive had begun, and in mid-March the My Lai Massacre occurred, though the courts martial for that did not begin until 1970.
| Name | Occupation | Birth | Death | Known for |
| --- | --- | --- | --- | --- |
| Luke Askew | Actor | 26-Mar-1932 | 29-Mar-2012 | Easy Rider |
| Bruce Cabot | Actor | 20-Apr-1904 | 3-May-1972 | Saved Fay Wray from King Kong |
| Jason Evers | Actor | 2-Jan-1922 | 13-Mar-2005 | The Brain That Wouldn't Die |
| Mike Henry | Football | 15-Aug-1936 | | Tarzan, 1966-68 |
| Jim Hutton | Actor | 31-May-1934 | 2-Jun-1979 | Ellery Queen |
| David Janssen | Actor | 27-Mar-1931 | 13-Feb-1980 | The Fugitive |
| Aldo Ray | Actor | 25-Sep-1926 | 27-Mar-1991 | The Green Berets |
| Jack Soo | Actor | 28-Oct-1916 | 11-Jan-1979 | Det. Yemana on Barney Miller |
| Raymond St. Jacques | Actor | 1-Mar-1930 | 27-Aug-1990 | Cotton Comes to Harlem |
| George Takei | Actor | 20-Apr-1937 | | Lt. Sulu on Star Trek |
| John Wayne | Actor | 26-May-1907 | 11-Jun-1979 | The Duke |
| Patrick Wayne | Actor | 15-Jul-1939 | | Sinbad and the Eye of the Tiger |
CAST
REVIEWS
Review by Lyn Anderson (posted on 5-Jul-2007)
Even though it was not considered a great film in its day, this film was the beginning of bringing about serious reflection of our involvement in Viet Nam. If you notice, it never depicts victory, but repetition, which is what Viet Nam was about. Lost a brother in the Marines in Viet Nam one year before this film was produced, Jim Hutton's part is very similar to my brother's job in the Marines, supply officer. The military slap-stick humor along with the seriousness of the day gives this film its great rating as a cause for reflection and real life as it was for those of us who lived through the Viet Nam war. My hat is off to John Wayne who produced this film, Jim Hutton, and the great participants in this film, who, unfortunately, most are gone now. However, their contribution to bring about awareness lives on. It definitely preserves a part of the American history, people, and culture of that time for generations to come.
---
Do you know something we don't?
Submit a correction or make a comment about this profile

Copyright ©2019 Soylent Communications