Dodge City (1-Apr-1939)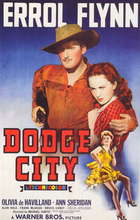 Director: Michael Curtiz
Writer: Robert Buckner
Music by: Max Steiner
Keywords: Western




Dodge City in 1872 is at the end of the line, the railroad terminus to where cattle are driven for transport east. It is also a lawless town, controlled by Boss Surrett and Yancey, his chief henchman. Errol Flynn accepts the job of sheriff in this first of eight westerns. In one memorable scene, one side of the saloon sings Marching Through Georgia and the other picks up with Dixie, during which an enormous brawl erupts, akin to a very similar sequence in Casablanca (1942).
CAST
REVIEWS
Review by anonymous (posted on 1-Feb-2007)
Errol Flynn and Olivia de Havilland, with sidekick Alan Hale Sr.. You already have a great cast and a good western story, based very loosly on Wyatt Earp, taming of a wild town. This western had it all train races with a stagecouch, gunfights, wagon train, trail drive, romance. One of the best barroom fights ever. In color and both stars at their best. Errol, brash, cocky, humer in all his looks and hero extrodernare. Olivia just lovely and not ready to let Errol walk all over her. Sit back and watch good clean fun and hollywood at its best.
---
Do you know something we don't?
Submit a correction or make a comment about this profile

Copyright ©2019 Soylent Communications