Sometimes a Great Notion (19-Jan-1972)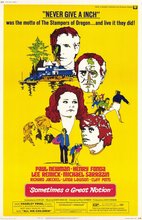 Director: Paul Newman
Writer: John Gay
From novel: Sometimes a Great Notion by Ken Kesey
Music by: Henry Mancini
Producer: John C. Foreman
Keywords: Drama




The Stampers, a family of independent loggers in Wakonda, Oregon, refuse to join in a labor strike, arousing the animosity of their neighbors. Adaptation of Ken Kesey's important second novel, though considerably less ambitious in scope (it may be impossible to give this novel true justice). Good performances from an excellent cast. Paul Newman took over direction after the resignation of Richard A. Colla.
| Name | Occupation | Birth | Death | Known for |
| --- | --- | --- | --- | --- |
| Henry Fonda | Actor | 16-May-1905 | 12-Aug-1982 | 12 Angry Men |
| Richard Jaeckel | Actor | 10-Oct-1926 | 14-Jun-1997 | Sometimes a Great Notion |
| Joe Maross | Actor | 7-Feb-1923 | 7-Nov-2009 | Run Silent, Run Deep |
| Hal Needham | Film Director | 6-Mar-1931 | 25-Oct-2013 | The Cannonball Run |
| Paul Newman | Actor | 26-Jan-1925 | 26-Sep-2008 | Salad dressing magnate |
| Lee Remick | Actor | 14-Dec-1935 | 2-Jul-1991 | Days of Wine and Roses |
| Michael Sarrazin | Actor | 22-May-1940 | 17-Apr-2011 | Frankenstein: The True Story |
CAST
The Stamper Family
Paul Newman
... Hank
Henry Fonda
... Henry
Lee Remick
... Viv
Michael Sarrazin
... Leeland
Richard Jaeckel
... Joe Ben
Linda Lawson
... Jan
Cliff Potts
... Andy
Sam Gilman
... John
The Town's People
Lee de Broux
... Willard Eggleston
Jim Burk
... Biggy Newton
Roy Jenson
... Elwood
Joe Maross
... Floyd Evenwrite
Roy Poole
... Draeger
Charles Tyner
... Les Gibbons
and
Bennie Dobbins
... Supporting Cast
Alan Gibbs
... Supporting Cast
Mickey Gilbert
... Supporting Cast
Dick Hudkins
... Supporting Cast
Terry Leonard
... Supporting Cast
Fred Lerner
... Supporting Cast
Gary McLarty
... Supporting Cast
Hal Needham
... Supporting Cast
J. N. Roberts
... Supporting Cast
Dean Smith
... Supporting Cast
Fred Waugh
... Supporting Cast
Fred Zendar
... Supporting Cast
REVIEWS
Review by JKH (posted on 29-May-2008)
Although the movie is not bad, you will be disappointed if you see it after reading the novel. The film does not develop the characters of the townsfolk which makes to film too much a family drama rather than a family, regional, and class drama. The rainy and very dark atmosphere of November-May Oregon is, unfortunately, absent in the film. This is a movie that could have been (and still could be) a great U.S.-American epic given the time. That said, made in the 1970s, the film has a quality of narrative that we don't see much in Hollywood films these days.
---
Review by Anonymous (posted on 8-Jun-2007)
This is the type of movie, it seems like that was there, but not many people have heard of. It has a good plot, a good story line. It pitted the family business against the logging union, with the family business coming through and "winning" in the end. The family being The Stampers. It had three of the biggest stars of the movie era. Paul Newman, Henry Fonda and Lee Remick. Plus the supporting cast is a big plus. Classic scene at the end with Paul Newman hoisting Henry Fonda's arm on the mast of the boat. Great scene. Good movie with great scenery. Did Paul Newman actually climb up the tree and saw off the top? I often wondered.
---
Review by anonymous (posted on 13-May-2006)
Exhalted portrayal of intense interpersonal relationships between men whose lives are spent engaged in strenuous, demanding physical exertion to earn their daily bread. These difficulties bond these hard-driving men and compel them to extremes of competetiveness in their daily lives both physically, mentally, emotionally, in their work and home environments. These bonds are strong and tenuous at the same time but remain the underlying force in their character.
---
Review by Eric House (posted on 18-May-2007)
This movie was the one I remember best from my childhood. The characters of Henry Fonda and Paul Newman are still to this day my belief in what a "REAL" man is. The attitude of We have a contract, thats are word, is just something you don't see anymore. The men of this family includeing Joe Ben showed they had no problem running the towns men out of there house and throwing a few sticks of dynomite in their direction, and yet also could show compassion such as when they find the towns men messing with their log rafts and freezing in the water. Lee Remick had a beauty and femininity, and yet a strength that no man could help but drool over. It was cool to watch the youngest brother Leeland slowly grow up into being a "STAMPER" as his father said "He really cut it today". In our society today men are being taught to "Get in touch" with their female side. This movie is a gift to the young men of today that shows what it was like when men where men. This is a mans man movie, guys don't miss this one!
---
Review by Gary Newbold (posted on 18-Jun-2005)
It's too bad no one really saw this film... or if they did maybe they remember it by its original release name, Never Give an Inch. It handles Ken Kesey's convoluted and intricate novel almost to the letter which revolves around one of the last holdouts against corporate timber industry the "gypo logging" family known as the Stampers in the magnificant, damp Coastal Range in Oregon.
Henry Fonda, the headstrong logging family patriarch Henry Stamper, puts in one of his best performances ever. Fonda recalled in his auto-biography that this film was one of his favorite roles. Paul Newman is Hank Stamper, the macho, no nonsense, fun loving half brother of Henry's prodigal son, Leyland, played by Michael Sarrazin.
Sarrazin's character, Leyland, who at a young age witnesses his half brother Hank romping in the sack with his frail minded mother and wife of Henry, inherits his mother's frail sensitivity and sucidal tendancies. Blaming mostly Hank's appetite for his father's young New York bride, the Stamper clan and the rugged, rain-soaked environment, Leyland returns to the logging family, after an unsuccessful suicide attempt, seeking answers, understanding and revenge.
The unionized logging corporations want to drive the Stampers out of business by hindering the delivery of a contract obligation for 5 rafts of logs, to be delivered to the mill by a particular date or else.
Kessey's novel is narrarated by each main character in the book itself...and trips into the past and into person's minds occur at each turn of every page. The film tackled a difficult novel by putting it all in the 3rd person. You're looking at a segment of Americana...a study into each character's psyche...and a commentary on the corporatization of yet another segment of the American way of life.
Leyland revenge is simple: to destroy the marriage between his half-brother and his wife, played by the lovely Lee Remick by stirring up the suppressed sadness of a lost stillborn infant, planting doubt and suspicion about Hank into her head, and to take advantage of a neglected wife's fear of aging without having lived life to its fullest.
In the end, it's implied, Leyland seduces her, she leaves Oregon, logs are miraculously delivered at the expense of nearly complete destruction of the entire Stamper clan of woodsmen.
It's Fonda, Newman, Remmick and Sarrazin in an unknown American masterpiece of film. It's that often strange dynamic of men and women and the tangled webs we weave in the name of lust and the tragedy left in its wake. For those of you that ever wondered what it might be like to have logged the big hooters in the great Northwest it's also the best handling of that subject ever made.
I guess the reasons films like this will never be made again in the US is that there are no pyrotechniques, no car chases, no impossible FXs... it's just a slice of a lost part of the American Pie.
---
Do you know something we don't?
Submit a correction or make a comment about this profile

Copyright ©2019 Soylent Communications