The City of Lost Children (17-May-1995)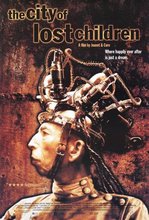 Original Title: La cité des enfants perdus
Directors: Marc Caro; Jean-Pierre Jeunet
Writers: Gilles Adrien; Marc Caro; Jean-Pierre Jeunet; Guillaume Laurant
Keywords: Fantasy, Dystopian, Conjoined Twins, Surreal




A scientist's inability to dream causes him to age quickly; to counter this malady he has children kidnapped, steals their dreams and injects those dreams into his own head. Sleeping is a problem in his family: Krank's four brothers are narcoleptics, and his seven identical sons also suffer sleeping disorders. Astonishing and surreal visuals, highly original story, and first-class performances make this a true wonder; there is so much material that multiple viewings may be of benefit.
REVIEWS
Review by banion48 (posted on 4-Apr-2005)
A dreamlike representation of a waterlocked society, where children are a fast disappearing commodity, and a deranged cult of machinists are terrorizing the public, and an offshore island houses a mad scientist struggling to dream. But when a simple strongman named One (Perlman) loses his beloved little brother he sets off on an indomitable mission to find him again. Together with a plucky young thief named Miette, who captures his heart, he unravels the mystery surrounding the City of Lost Children.
---
Do you know something we don't?
Submit a correction or make a comment about this profile

Copyright ©2019 Soylent Communications