Moonraker (27-Jun-1979)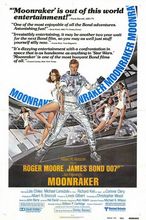 Director: Lewis Gilbert
Writer: Christopher Wood
From novel: Moonraker by Ian Fleming
Music by: John Barry
Producer: Albert R. Broccoli
Keywords: Action/Adventure, James Bond




Investigating the mid-air disappearance of the Moonraker 5 space shuttle, James Bond uncovers Hugo Drax's plot to kill the Earth's population with nerve gas, to be replaced with Übermensch presently manning his secret space station. The most over-the-top of Roger Moore's Bond films, departing almost entirely from Ian Fleming's book of the same name. Received an Oscar nomination for Best Visual Effects.
| Name | Occupation | Birth | Death | Known for |
| --- | --- | --- | --- | --- |
| Alfie Bass | Actor | 8-Apr-1921 | 15-Jul-1987 | Bootsie and Snudge |
| Lois Chiles | Actor | 15-Apr-1947 | | Moonraker |
| Walter Gotell | Actor | 15-Mar-1924 | 5-May-1997 | Gen. Gogol in James Bond films |
| Geoffrey Keen | Actor | 21-Aug-1916 | 3-Nov-2005 | Sir Fredrick Gray in Bond films |
| Richard Kiel | Actor | 13-Sep-1939 | 10-Sep-2014 | "Jaws" in Moonraker |
| Bernard Lee | Actor | 10-Jan-1908 | 16-Jan-1981 | James Bond's M |
| Desmond Llewelyn | Actor | 12-Sep-1914 | 19-Dec-1999 | "Q" in James Bond films |
| Michael Lonsdale | Actor | 24-May-1931 | | Moonraker |
| Lois Maxwell | Actor | 14-Feb-1927 | 29-Sep-2007 | Miss Moneypenny |
| Roger Moore | Actor | 14-Oct-1927 | 23-May-2017 | James Bond after Sean Connery |
CAST
Roger Moore
... James Bond
Starring
Lois Chiles
... Holly Goodhead
Michael Lonsdale
... Drax
Richard Kiel
... Jaws
and
Corinne Clery
... Corinne Dufour
Featuring
Emily Bolton
... Manuela
Geoffrey Keen
... Frederick Gray
Toshiro Suga
... Chang
Lois Maxwell
... Moneypenny
Irka Bochenko
... Blonde Beauty
Nicholas Arbez
... Drax's Boy
Bernard Lee
... "M"
And
Desmond Llewelyn
... "Q"
Blanche Ravalec
... Dolly
Anne Lonnberg
... Museum Guide
Michael Marshall
... Col. Scott
Jean Pierre Castaldi
... Pilot Private Jet
Leila Shenna
... Hostess Private Jet
Walter Gotell
... Gen. Gogol
Douglas Lambert
... Mission Control Director
Arthur Howard
... Cavendish
Alfie Bass
... Consumptive Italian
Brian Keith
... U.S. Shuttle Captain
George Birt
... Captain Boeing 747
Kim Fortune
... R.A.F. Officer
Lizzie Warville
... Russian Girl
Johnny Traber's Troupe
... Funambulists
Guy Di Rigo
... Ambulanceman
Chris Dillinger
... Drax's Technician
Claude Carliez
... Gondolier
Georges Beller
... Drax's Technician
Denis Seurat
... Officer Boeing 747
Chichinou Kaeppler
... Drax's Girl
Christina Hui
... Drax's Girl
Françoise Gayat
... Drax's Girl
Nicaise Jean Louis
... Drax's Girl
Catherine Serre
... Drax's Girl
Beatrice Libert
... Drax's Girl
REVIEWS
Review by jan koetje (posted on 8-Aug-2007)
The stone which fell on Jaws' feet, the car being sent off the hill during a car chase, landing nose down into a farmer's house and Jaws emerging unharmed from it, Bond throwing a fish out of the window from the submarine Lotus, forced to resurface after a tour underwater, etc. Unfortunately Moonraker was built on these campy elements. Criticasters have not been too friendly for the film, judging it as 'just for laughs' and 'too cartoonish'. They were right in their judgement, but not in their observations. Moonraker was made for a whole new generation of movie-goers at the time. Cubby Broccoli tried to anticipate on that. Surrounded by movies like Star Wars and Smokey and the Bandit, the way Moonraker went, seemed to be the only right way, at that time. The immense success of The Spy Who Loved Me supported that direction. But was Moonraker really that bad? For the average movie-goer the answer would be a 'no'. For the Bond-film afficionados it was, undoubtedly, the worst in terms of artistic achievements and we don't mean the lavish special effects, the camera work, or John Barry's magnificent score. It is the way Bond has been portrayed by Roger Moore in this movie. One has to say that not only he is to blame. Lewis Gilbert introduced the scenes, as described above in the previous movie, much to Christopher Wood's chagrin. It is, however, Wood who has been helt responsible for the artistic failure of the movie. True, the dialogues are kept very short in this movie, not giving the main actor a chance to develop some kind of a character. That's why the centrifuge scene makes such an impact. Bond is portrayed as some superhuman, with all kinds of gadgets to help him out. Also in this scene, but it's wisely not being compromised by any jokiness. Despite the presence of some sort of device, we see a vulnerable Bond, in shock after getting out of the centrifuge. Raymond Benson (who years later would write several Bond-novels) critisized this scene, as a flashback to a similar scene in Thunderball, where Bond has been tied down to 'the rack'. Benson, critisized all the movies after Goldfinger, to be a repetition of previous outings. This scene, however, was the first time since the Roger Moore area, to see Bond so helpless and humiliated, despite the gadget helping him out. Except for the exciting freefall in the film's opening, turning into some cartoonish 'cat and mouse' game, the first half of the movie, untill Bond hovercrafts out of the Grand Canal onto St. Mark's Square in Venice, is quite good and amusing, thanks to the, unfortunately, very brief encounters between Bond and Drax. The laboratory scene in Venice is one of the most exciting researches Bond has undertoken in the last thirty years. But from the moment he leaves Venice, the movie goes downhill... Rio de Janeiro has no other function, than to show James Bond at some exotic location. Although Jaws' threat at the carnival is sincere, his encounter with Bond on the cable car is purely played for laughs. Also the boat chase, filmed actually in Florida, substituting the rivers at Iguazu Falls, lacks excitement for the easiness of Bond, to dispose off pursuers. Also, the scenes follow quickly to get Bond into space as soon as possible. Moonraker hit the jackpot at the box-office, but the Bond afficionados were very disappointed. I do not believe that either Broccoli or Wilson were impressed by the afficionados critics, but they decided to bring Bond back to earth for their next installment, nevertheless.
---
Do you know something we don't?
Submit a correction or make a comment about this profile

Copyright ©2019 Soylent Communications