Raiders of the Lost Ark (12-Jun-1981)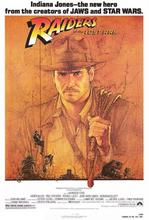 Director: Steven Spielberg
Writers: Lawrence Kasdan; Philip Kaufman; George Lucas
Keywords: Action/Adventure, Archaeology, WWII, Nazis, Bible, Snakes, Explosions




The OSS hires fedora-clad archaeologist and part-time treasure hunter Indiana Jones to locate the biblical Ark of the Covenant, the vessel holding the original Ten Commandments, to keep its power out of the hands of the Nazis. Won Oscars for Best Set Direction, Best Visual Effects, Best Editing, Best Sound, and a Special Achivement for Sound Effects Editing; received nominations for Best Picture, Best Director, Best Cinematography, and Best Original Score. Spawned four sequels.
[watch trailer]
| Name | Occupation | Birth | Death | Known for |
| --- | --- | --- | --- | --- |
| Karen Allen | Actor | 5-Oct-1951 | | Raiders of the Lost Ark |
| Denholm Elliott | Actor | 31-May-1922 | 6-Oct-1992 | A Room with a View |
| Harrison Ford | Actor | 13-Jul-1942 | | Han Solo in Star Wars |
| Paul Freeman | Actor | 18-Jan-1943 | | Raiders of the Lost Ark |
| Frank Marshall | Film/TV Producer | 13-Sep-1946 | | Co-Founder of Amblin Entertainment |
| Alfred Molina | Actor | 24-May-1953 | | Doctor Octopus in Spider-Man 2 |
| John Rhys-Davies | Actor | 5-May-1944 | | Gimli the dwarf in Lord of the Rings |
REVIEWS
Review by Lewis Brian (posted on 17-Jun-2007)
This is the first of the Indiana Jones films. It all starts when Indiana Jones (Harison Ford) is hired by the US Army on search of the Ark of the Covenant. But he encounters on a journey much longer than he expected. First he has to go to Nepal and talk to Marion Ravenwood (Karen Allen) about the Ark of the Covenant. Then he goes to Egypt and meets with his friend Sallah (John Rhys-Davies) but struggles to find the Ark. There are many dangers obout such as the Nazis lead by Rene Belloq (Paul Freeman), Arnold Toht (Ronald Lacey) and Colonel Dietrich (Wolf Kahler). They are also on a mission to get the Ark before Indy. This is a great movie for those action lovers out there. A superb film to be watched with pleasure and joy.
---
Do you know something we don't?
Submit a correction or make a comment about this profile

Copyright ©2019 Soylent Communications