Sunset Blvd. (4-Aug-1950)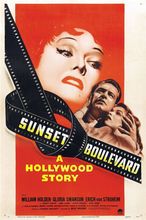 Director: Billy Wilder
Writers: Charles Brackett; Billy Wilder; D. M. Marshman, Jr.
Music Score by: Franz Waxman
Producer: Charles Brackett
Keywords: Drama, Film Noir, Hollywood, Los Angeles




Joe Gillis, down-on-his-luck screenwriter, suffers a flat tire in front of a deteriorating mansion on Sunset Boulevard. It is owned by faded silent star Norma Desmond; she invites him to rework her version of Salome, which she intends as her comeback vehicle. Won Oscars for Best Screenplay, Best Dramatic Score and Best Set Decoration; received additional nominations for Best Picture, Best Director, Best Actor and Actress, Best Supporting Actor and Actress, Best Cinematography and Best Editing. Entered 1989 into the National Film Registry.
[watch trailer]
| Name | Occupation | Birth | Death | Known for |
| --- | --- | --- | --- | --- |
| Fred Clark | Actor | 19-Mar-1914 | 5-Dec-1968 | A Place in the Sun |
| Cecil B. DeMille | Film Director | 12-Aug-1881 | 21-Jan-1959 | Pioneering film director |
| Ray Evans | Songwriter | 4-Feb-1915 | 15-Feb-2007 | Que Sera Sera |
| Lloyd Gough | Actor | 21-Sep-1907 | 23-Jul-1984 | Blacklisted character actor |
| William Holden | Actor | 17-Apr-1918 | 16-Nov-1981 | Stalag 17 |
| Hedda Hopper | Actor | 2-May-1885 | 1-Feb-1966 | Queen of the Quickies |
| Jay Livingston | Composer | 28-Mar-1915 | 17-Oct-2001 | Que Sera Sera |
| Nancy Olson | Actor | 14-Jul-1928 | | Sunset Blvd. |
| Erich von Stroheim | Actor | 22-Sep-1885 | 12-May-1957 | Swanson's servant in Sunset Blvd. |
| Gloria Swanson | Actor | 27-Mar-1897 | 4-Apr-1983 | Sunset Blvd. |
| H. B. Warner | Actor | 26-Oct-1875 | 21-Dec-1958 | The King of Kings |
| Jack Webb | Actor | 2-Apr-1920 | 23-Dec-1982 | Joe Friday in Dragnet |
CAST
REVIEWS
Do you know something we don't?
Submit a correction or make a comment about this profile

Copyright ©2019 Soylent Communications