The Good Earth (29-Jan-1937)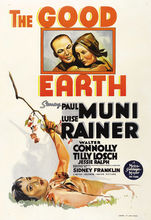 Director: Sidney Franklin
Writers: Talbot Jennings; Tess Slesinger; Claudine West
From novel: The Good Earth by Pearl S. Buck
Musical Score by: Herbert Stothart
Keywords: Drama




Wang, a peasant farmer, marries the slave woman O-Lan, who bears him two sons and a daughter; and with time and sacrifice, they achieve some prosperity. Wang takes a second wife, a dancer. Won Oscars for Best Actress and Best Cinematography; received additional nominations for Best Picture, Best Director, and Best Editing.
| Name | Occupation | Birth | Death | Known for |
| --- | --- | --- | --- | --- |
| Walter Connolly | Actor | 8-Apr-1887 | 28-May-1940 | It Happened One Night |
| Charley Grapewin | Actor | 20-Dec-1869 | 2-Feb-1956 | Tobacco Road |
| Tilly Losch | Dancer | 15-Nov-1903 | 24-Dec-1975 | Ballet dancer, sometimes actress |
| Keye Luke | Actor | 18-Jun-1904 | 12-Jan-1991 | Charlie Chan's No. 1 Son, Lee |
| Paul Muni | Actor | 22-Sep-1895 | 25-Aug-1967 | The Life of Louis Pasteur |
| Luise Rainer | Actor | 12-Jan-1910 | 30-Dec-2014 | German film actress |
| Jessie Ralph | Actor | 5-Nov-1864 | 30-May-1944 | San Francisco |
CAST
REVIEWS
Review by anonymous (posted on 7-Feb-2007)
The Good Earth is based on the novel by Pearl S. Buck. It is the story of a humble farmer, Wang (Paul Muni), and his wife O-Lan (Luise Rainer) in China and depicts their struggles through famine and the revolution. The movie also illustrates the culture of the time, i.e., arranged marriages, lower status of women in Chinese society. The love and respect between the farmer and his wife are demonstrated through the actors' gestures and expressions - very little is spoken between them. Even when Wang becomes very prosperous and takes another wife, which is considered acceptable, the viewer can still see the love between him and O-Lan. Luise Rainer's acting is superb. Paul Muni's portrayal is also very good but his acting is a bit over the top at times (remnants of the silent movie era).
---
Do you know something we don't?
Submit a correction or make a comment about this profile

Copyright ©2019 Soylent Communications