Ex Machina (21-Jan-2015)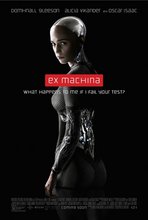 Director: Alex Garland
Writer: Alex Garland




A computer engineer embarks on a perilous journey after he is invited to beta-test his mad-genius boss's latest creation.
ABSTRACT
Caleb, an impressionable young engineer for search-engine giant Bluebook, "wins" a contest to join mad genius CEO Nathan at his estate-cum-laboratory in the mountains. Asked to help beta test Nathan's latest creation, a self-aware humanoid robot named Ava, Caleb soon opens up a dangerous can of worms touching on questions of morality and the definition of "human" as his experiments with Ava wear on and Nathan's true intentions are laid bare.
A mostly unqualified triumph for writer/director Alex Garland, Ex Machina delivers in areas where prior genre entries like Artificial Intelligence: AI and Transcendence came up short.
| Name | Occupation | Birth | Death | Known for |
| --- | --- | --- | --- | --- |
| Oscar Isaac | Actor | 9-Mar-1979 | | Poe Dameron in The Force Awakens |
| Alicia Vikander | Actor | 3-Oct-1988 | | Ex Machina |
REVIEWS
Do you know something we don't?
Submit a correction or make a comment about this profile

Copyright ©2019 Soylent Communications