Unfaithful (10-May-2002)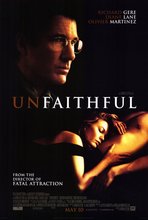 Director: Adrian Lyne
Writers: William Broyles, Jr.; Alvin Sargent
Keywords: Erotic Thriller




A housewife's act of infidelity threatens the integrity of her idyllic suburban family.
ABSTRACT
Based on La Femme infidèle by Claude Chabrol. Connie Sumner is an ostensibly happy housewife in suburban New York, enjoying a life with a lovely home, husband Ed, and young son Charlie. A chance encounter with handsome stranger Paul one stormy day turns into an obsession as he and Connie quickly hit it off, leading to an extramarital affair threatening the continued existence of the once-idyllic Sumner household as Connie acquires an ever-stronger taste for forbidden love and Ed descends into paranoia.
REVIEWS
Review by Michael Lesch (posted on 26-Oct-2008)
This infidelity yarn which is actually better than expected is no doubt due to the fine performances and chemistry of the two leads - Diane Lane and Richard Gere. Lane is more than sexy as the spouse who wanders and Gere surprisingly shines as the curious turned jealous then obsessive hubby in a story that takes a different and unexpected twist. An additional twist (if I may play with words) is the formidable tryst who is admirably played by the Frenchman Olivier Martinez. This versatile French actor may have dipped into a bit of his personal past when he sparred in the ring as a boxer to exchange both physical and more notably, mental blows with the respective leads. "Unfaithful" also has director Adrien Lynne returning to the infidelity theme he was successful in both his 1993 "Indecent Proposal" as well as his 1987 triumph, "Fatal Attraction" which is widely recognized as a landmark of the genre. He also attempts to surpass the steamy scenes from an earlier film - 9 1/2 Weeks - that infamously gave him notoriety among film censors but thankfully in this 2002 release the passion is far less bizarre while still being on quite sensual and passionate.
---
Review by Egypt (posted on 16-May-2007)
This movie was alive. The acting was superb and real with energy that one could feel. I was captured by nearly every single scene. Emotions came through the screen. My favorite part was when Martinez was coming with all those books and the most wonderful thing happened, they fell on each other. I disliked the part, where Martinez was killed, that to me took away from the movie. I would have preferred, seeing Richard Gere throw the object and break a window and trash his place of residence. Martinez was too sexy and erotic to kill out of the movie. I would rather also seeing Richard catch Diane in the very act of making love to Martinez. I would have preferred seeing her cry as she turned to see her husband standing there watching her make love to Martinez. How great it would have been to see them work through such an experience. Martinez is too sexy to kill off in any movie. He is the reason I went to see the movie. My second best part, was when they were dancing together when she came to visit. I love a man that is mildly aggressive whom is able to take a woman and arouse her with desire and passion. It was the kind of movie that you flow into, and flow with all the way to the end. But I detached my emotions from the movie when Olivia Martinez was killed. That disconnected me from the movie.
---
Do you know something we don't?
Submit a correction or make a comment about this profile

Copyright ©2019 Soylent Communications