Furious Seven (16-Mar-2015)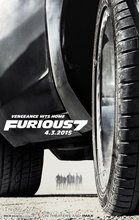 Director: James Wan
Writer: Chris Morgan
Keywords: Action/Adventure




Seventh entry in the Fast and Furious franchise follows the venerable gang as they are drawn into yet another tense situation.
ABSTRACT
Installment seven in the The Fast and the Furious (2001) franchise. Dominic Toretto and company, eager to move on from their trade as illegal street racers-cum-mercenaries following the events of Fast & Furious 6, reluctantly head back into action when vanquished enemy Owen Shaw's brother surfaces with a taste for revenge. Car porn, slick fight scenes, and beautiful women ensue as the gang regroup for another go-around.
Positively received by critics and audiences, praise for Furious Seven centered on the film's tribute to franchise standby Paul Walker, killed in a car crash during filming.
REVIEWS
Do you know something we don't?
Submit a correction or make a comment about this profile

Copyright ©2019 Soylent Communications