The Quiet Man (21-Jul-1952)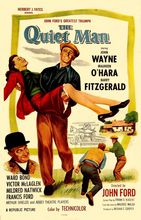 Director: John Ford
Writers: Frank S. Nugent; Maurice Walsh
Music: Victor Young
Keywords: Romantic Drama, Matchmaker, Boxing




An Irish boxer raised in the United States returns to the land of his birth after he kills a man in the ring; he meets Mary Kate, but must enlist the services of a local matchmaker if he is even to think about making overtures to marriage. Rights to this fish-out-of-water story were purchased by director John Ford but no studio would consider producing it. He gained the opportunity as John Wayne's contract was nearing its end at Republic Pictures. Won Oscars for Best Director and Best Cinematography; received nominations for 5 others including Best Picture, Best Actor, and Best Screenplay.
REVIEWS
Review by Trump! (posted on 25-Feb-2005)
Wonderful movie starring John Wayne and Maureen O'Hara. John Wayne plays an American boxer who kills a man in the ring and goes back to the town where he was raised in Ireland to forget his troubles. There he meets Maureen 0'Hara to which he immediately falls for and wants to marry. The only problem is her brother (a town bigwig) can't stand the American and trouble ensues. This movie is filmed in Ireland with wonderful cinematography and landscapes. It is well known for having one of the best fight scenes in the history of movie making. A must see.
---
Review by Joseph White (posted on 9-Apr-2005)
The Quiet Man is one of most entertaining films I've ever seen. I have owned a copy on VHS for years and view it once every six months or so just to renew my enjoyment. If I've seen it once, I've seen it over three dozen times.
The storyline is perfect... the former boxer returning home to Ireland to buy the house in which he was born and incurring the wrath of the brother of a gal he has fallen in love with by doing so. Having killed a man in the ring, John is afraid to fight the brother fearing there will be a tragic repeat. All the excitement of a "John Wayne film" is present, accompanied by a tender love story culminating in a much anticipated and terrific fight scene.
If one has never seen this movie, they owe it to themselves to find a copy on VHS or DVD. It is one of "The Duke's" best pictures.
---
Review by anonymous (posted on 6-Oct-2006)
The Quiet Man is what movie-making is all about! The stars, the quality of their acting, the way they bring the characters to life, the cinematography, the scenery, the directing, the story -- all are to die for (it was directed by John Ford). It entertains and uplifts the spirit from beginning to end. John Wayne plays a successful Irish-American boxer who leaves the ring after accidently killing his opponent. He moves to his mother's small village in Ireland where he meets & falls in love with Maureen O'Hara. Their marriage is opposed by her brother, played by Victor McLaughlin. The issue is eventually resolved by a fistfight between Wayne & McLaughlin, the best & funniest I've ever seen. The Quiet Man was made in the early 1950s and the setting is around 1920 (I think), so the values portrayed here are fit for even the youngest member of the family. And, if you like pure, essential Irish (or even if you don't), this very funny, very good movie is for you.
---
Do you know something we don't?
Submit a correction or make a comment about this profile

Copyright ©2019 Soylent Communications