K-PAX (22-Oct-2001)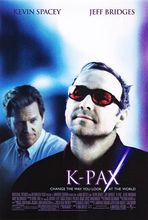 Director: Iain Softley
Writer: Charles Leavitt
From novel: K-Pax by Gene Brewer
Music by: Edward Shearmur
Producers: Lawrence Gordon; Lloyd Levin; Robert F. Colesberry
Keywords: Drama, Fantasy, Psychiatry




Film adaptation of the 1995 novel of the same name tells the tale of a mental ward patient's claims of extraterrestrial origin and the psychiatrist tasked with handling his case.
ABSTRACT
prot (uncapitalized, rhymes with "goat"), a middle-aged man of unknown origin, is committed to the Psychiatric Institute of Manhattan after claiming to be an out-of-this-world visitor from the planet "K-PAX", located in the Lyra constellation a thousand light years from Earth. prot's knowledge of astrophysics and influence over fellow patients in the mental ward attracts the attention of Mark Powell, a psychiatrist tasked with ridding prot's mind of supposed delusions who comes to doubt his own theories concerning his condition after spending time with the enigmatic individual.
CAST
Kevin Spacey
... Prot
Jeff Bridges
... Dr. Mark Powell
Alfre Woodard
... Claudia Villars
Mary McCormack
... Rachel Powell
Peter Gerety
... Sal
Saul Williams
... Ernie
David Patrick Kelly
... Howie
Celia Weston
... Mrs. Archer
Ajay Naidu
... Dr. Chakraborty
Conchata Ferrell
... Betty McAllister
Mary Mara
... Abby
John Toles-Bey
... Russell
Tracy Vilar
... Maria
Melanee Murray
... Bess
Kimberly Scott
... Joyce Trexler
Vincent Laresca
... Navarro
Mark Christopher Lawrence
... Simms
Brian Howe
... Steve
Tess McCarthy
... Natalie Powell (Age 6)
Natasha Dorfhuber
... Gabby Powell (Age 9)
Brandon Michael DePaul
... Josh (Age 10)
Aaron Paul
... Michael Powell (Age 21)
William Lucking
... Sheriff
Kelly Connell
... Walter Fleen
Peter Maloney
... Duncan Flynn
Lance Nichols
... David Patel
Paul Linke
... Stuart Hessler
Christopher Jason Brown
... Danny Trexler
Greg Lewis
... Dominic McAllister
Clarke Peters
... Homeless Veteran
Olga Merediz
... Transit Officer
Joe Holt
... Transit Officer
Lola Pashalinski
... Russian Woman
Kateri Walker
... Sara Porter
Katya Abelski
... Rebecca Porter
Scott Lincoln
... Walker
Clebert Ford
... Homeless Man
Norman Alden
... Babbling Man
Rawle D. Lewis
... Security Guard
Erik LaRay Harvey
... Security Guard
Zofia Borucka
... Woman on Train
Tony Rhune
... Thug
Vince Capone
... Thug
Ward Patients
B'Jahn
... Ward Patient
Anne Carroll
... Ward Patient
Lisa Cohen
... Ward Patient
Clete Francis
... Ward Patient
Leo Frank
... Ward Patient
Valerie Giocondo
... Ward Patient
William Godbolt
... Ward Patient
Ralph Hadida
... Ward Patient
Pat Jankiewicz
... Ward Patient
Josef Klus
... Ward Patient
Coco Leigh
... Ward Patient
Lydia Murray
... Ward Patient
Rafael Real
... Ward Patient
Julie Sands
... Ward Patient
Gene Smith
... Ward Patient
REVIEWS
Review by banion48 (posted on 4-Apr-2005)
Although a bit slow and utterly existential at times K-PAX is the story of a psychologist, played by Bridges, trying to disprove that one of his patients is in fact an extraterrestrial from the planet KPAX. Prot (Spacey) is a mild mannered, intelligent, slightly presumptuous alien who befriends and overruns the ward of the mental institution he is occupying and convinces patients and employees alike that he is indeed a KPAXian. Bridges, a calloused, work-driven man, is changed over the course of the movie by this interesting new addition to his ward and at the end gains some insights into the point of life. Nice film if you're a Spacey fan, but otherwise one might be disappointed or bored.
---
Do you know something we don't?
Submit a correction or make a comment about this profile

Copyright ©2019 Soylent Communications