Impostor (4-Jan-2002)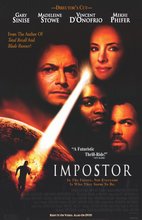 Director: Gary Fleder
Writers: Caroline Case; Ehren Kruger; Scott Rosenberg; David Twohy
From short story: The Imposter by Philip K. Dick
Keywords: Sci-Fi




A government scientist works to clear his name when he is accused of taking part in an alien-backed plot to destroy Earth.
ABSTRACT
Spencer Olham, celebrated scientist in a dystopian future Earth constantly threatened by war-hungry aliens using androids to inflict damage on the planet, is accused of being one such humanoid robot by investigative detective Hathaway. Spencer must now work to prove his innocence -- and humanity -- if he is to continue his work sparing a populace eager to anoint him Public Enemy No. 1 from total devastation.
REVIEWS
Review by mizi causevic (posted on 13-Feb-2005)
Now here is a movie that is hated by 80% of the critics, for what reason, I will never truly know. I often think that critics just love to bash Sci-Fi movies for whatever reason. Personally, I enjoyed this movie and I noticed something interesting. Every time I take a trip to the local video store and this movie is playing on their screen, customers practically run to their section where Impostor is located, now whether they like the movie at the end, I have no idea, but they always seem to like what they see at first glance. Anyway, believe me when I tell you that this movie is absolutely hated, however I happened to enjoy it and would not mind owning it on DVD someday. Aside of what I just said, this movie is also an adaptation of the late great Philip K. Dick who is also responsible for some of the greatest Sci-Fi stories of all time, (upcoming Minority Report is also by P.K.D.)
So here we have a story about the mankind going at it with the aliens. They believe that the aliens are taking over human bodies and living as if they are humans. Spencer (Gary Sinise) just so happens to get accused of being an alien even though his latest work promises good news for the planet. So why would someone who loves the mother-earth get accused of being an alien? So the twist takes place and Spencer becomes the hunted. He's out to prove the identity of himself to the masses and also to himself while everyone else chases him.
I don't want to praise a "chase" flick too much here but I sincerely believe you should give this flick a try, you just might happen to like the damn thing. I did even though I was told otherwise by many. I dug the story and the whole aspect of the chase. However, I was disappointed that Madeleine Stowe got the short end of the stick in this movie and absolutely felt absent throughout the story (Hey Hollywood, give her more screen time you pricks, she deserves much more then this!). Gary Sinise was naturally good at anyone he plays on the big screen so there was a no problem here. Mekhi Phifer was a nice addition the the flick but once again, he's capable for much more. Tony Shalhoub also hace a nice... let's call it a cameo here, I don't know why he signed up for this movie. Vincent D'Onofrio plays a bad ass once again and for that, he made the movie much more interesting. All in all, I don't want to disregard anything that the other critics might have said about this movie but I have this thing where my brain says "fuck them" so listen to my brain and see this movie, you just might happen to like it. How will you ever know unless you see it?
---
Do you know something we don't?
Submit a correction or make a comment about this profile

Copyright ©2019 Soylent Communications