Daddy Long Legs (5-May-1955)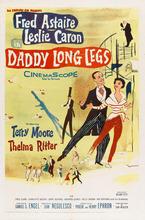 Director: Jean Negulesco
Writers: Phoebe Ephron; Henry Ephron
From novel by: Jean Webster
Words and Music by: Johnny Mercer
Producer: Samuel G. Engel
Keywords: Musical, May-September Romance




During business in France, wealthy New York millionaire Jervis Pendleton comes across a rural orphanage; he anonymously sponsors the New England college education of a girl he spotted there, on condition that she keep him informed of her progress. His staff insulates Pendleton from her contact, but he learns that his niece also attends the same college and arranges for a visit. Received Oscar nominations for Best Set Decoration, Best Score, and Best Original Song, "Something's Gotta Give."
| Name | Occupation | Birth | Death | Known for |
| --- | --- | --- | --- | --- |
| Ray Anthony | Musician | 20-Jan-1922 | | Young Man With a Horn |
| Fred Astaire | Dancer | 10-May-1899 | 22-Jun-1987 | Broadway ballroom dancer |
| Leslie Caron | Dancer | 1-Jul-1931 | | Gigi |
| Fred Clark | Actor | 19-Mar-1914 | 5-Dec-1968 | A Place in the Sun |
| Larry Keating | Actor | 13-Jun-1896 | 26-Aug-1963 | Roger Addison on Mister Ed |
| Terry Moore | Actor | 7-Jan-1929 | | Come Back, Little Sheba |
| Thelma Ritter | Actor | 14-Feb-1905 | 4-Feb-1969 | Stella in Rear Window |
CAST
REVIEWS
Review by Joy R. Kluess (posted on 18-Dec-2008)
This movie has everything a musical should have: wonderful songs, especially "Dream." Leslie Caron stars with Fred Astaire. Incidentally, Daddy Long Legs is not mentioned in Fred Astaire's biography. It was filmed in 1955 in New York and Paris and is out in DVD form. Commentary from the DVD: "Daddy Long Legs is a magical musical, following a young French girl (Leslie Caron) through college, her education sponsored by a mysterious man with long legs. Millionaire Jervis Pendleton III (Fred Astaire) is from old money, and although he is generous with his wealth, he must learn how to give of his emotions. Amid sparkling musical numbers and dream sequences, comic relief comes from Fred Clark as Griggs, Jervis' assistant and Thelma Ritter as Jervis' secretary."
---
Do you know something we don't?
Submit a correction or make a comment about this profile

Copyright ©2019 Soylent Communications