Jarhead (4-Nov-2005)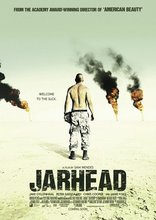 Director: Sam Mendes
Writer: William Broyles, Jr.
Based on a book: Jarhead: A Marines Chronicle of the Gulf War by Anthony Swofford
Music by: Thomas Newman
Producers: Douglas Wick; Lucy Fisher
Keywords: Drama, Action/Adventure, Sniper, Iraq, Persian Gulf War, Biography, Explosions




Film adaptation of the Anthony Swofford memoir of the same name tells of a former Marine's Desert Storm-era experiences in the Middle East.
ABSTRACT
Anthony Swofford, a young man and intellectual from Sacramento, California, joins up with the Marines towards the end of the tumultuous 1980s, heading to Saudi Arabia as a sniper after Saddam Hussein's sabre-rattling leads to the Persian Gulf War. Ill-suited for the job of witnessing carnage and perhaps doing some killing himself with little remorse in the name of freedom no matter how well-intentioned the military operation might be, Swofford becomes party to a series of traumatic events under the scorching Arabian sun, ultimately taking his experiences to a tell-all book that would serve as the basis for Jarhead.
[watch trailer]
CAST
Jake Gyllenhaal
... Swoff
Peter Sarsgaard
... Troy
Lucas Black
... Kruger
Brian Geraghty
... Fergus
Jacob Vargas
... Cortez
Laz Alonso
... Escobar
Evan Jones
... Fowler
Ivan Fenyo
... Pinko
Chris Cooper
... Lt. Col. Kazinski
Dennis Haysbert
... Maj. Lincoln
Scott MacDonald
... D.I. Fitch
Jamie Foxx
... Staff Sgt. Sykes
Kareem Grimes
... Welty
Peter Gail
... Doc John
Jamie Martz
... Foster
Jocko Sims
... Julius
Ming Lo
... Bored Gunny
Kevin Foster
... Branded Marine
Damion Poitier
... Poitier
Riad Galayini
... Nurse
Craig Coyne
... Young Mr. Swofford
Katherine Randolph
... Young Mrs. Swofford
Rini Bell
... Swoff's Sister
Dendrie Taylor
... Mrs. Swofford
James Morrison
... Mr. Swofford
Arman Zajic
... Boy Swoff
Brianne Davis
... Kristina
Brian Casey
... Paintball Marine
Ernest Ozuna
... Sgt. Major
Tyler Sedustine
... Harris
Jonathon R. Mize
... STA Graduate
Joel Prato
... STA Graduate
Kristin Richardson
... Stewardess
Donna Kimball
... Reporter
Marty Papazian
... Dettman
Becky Boxer
... Dettman's Wife
Mark Davis
... Dettman's Neighbor
John Krasinski
... Cpl. Harrigan
Christian Reeve
... Bedouin
Mike Akrawi
... Bedouin
Toufig Tulsiram
... Bedouin
Jubin K
... Bedouin
Hari Bali
... Bedouin
Kurt Larson
... Arguing Corporal
Ammar Daraiseh
... Iraqi Officer
Al Faris
... Iraqi Officer
V. J. Foster
... Vietnam Vet
REVIEWS
Do you know something we don't?
Submit a correction or make a comment about this profile

Copyright ©2019 Soylent Communications