Funny Face (13-Feb-1957)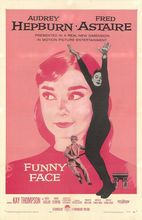 Director: Stanley Donen
Writer: Leonard Gershe
Keywords: Romantic Comedy, Musical, Models, New York




Photographer Dick Avery discovers book store salesgirl Jo Stockton and thinks she is just the thing for fashion magazine Quality. Lightweight musical take on Pygmalion is a fun parody of the fashion world. Received Oscar nominations for Best Story and Screenplay, Best Cinematography, Best Set Decoration and Best Costume Design. Nominated also for the Palme d'Or at Cannes.
[watch trailer]
| Name | Occupation | Birth | Death | Known for |
| --- | --- | --- | --- | --- |
| Fred Astaire | Dancer | 10-May-1899 | 22-Jun-1987 | Broadway ballroom dancer |
| Virginia Gibson | Actor | 9-Apr-1928 | 25-Apr-2013 | Seven Brides for Seven Brothers |
| Audrey Hepburn | Actor | 4-May-1929 | 20-Jan-1993 | My Fair Lady |
| Ruta Lee | Actor | 30-May-1935 | | Former hostess, High Rollers |
| Suzy Parker | Model | 28-Oct-1932 | 3-May-2003 | Early supermodel turned actress |
REVIEWS
Review by anonymous (posted on 9-Jan-2007)
I was disappointed in this movie despite the presence of Fred Astaire and Audrey Hepburn. She was lovely, but I found the musical numbers forgettable and the sets often dreary. One dance number was done in the dark and unimaginatively lit. I've never seen Audrey in any movie that she wasn't fantastic in so if you love her, see this to watch her. Astaire's dancing is always awesome. I wanted to love this film, but I did not.
---
Do you know something we don't?
Submit a correction or make a comment about this profile

Copyright ©2019 Soylent Communications