Far from Heaven (1-Sep-2002)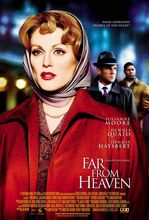 Director: Todd Haynes
Writer: Todd Haynes
Music by: Elmer Bernstein
Producers: Jody Patton; Christine Vachon
Keywords: Romantic Drama




A 1950s housewife's discovery of her husband's homosexuality touches off a whirlwind of explosive events.
ABSTRACT
Cathy Whitaker is a seemingly perfect housewife in an idyllic 1950s suburban Connecticut family, married to loving husband Frank with two lovely children. Cathy's happy world comes crashing down when she catches her husband in the act of kissing another man, leading her into a friendship with African-American gardener Raymond Deagan flying up against rigidly-defined social taboos in the pre-Civil Rights Act United States.
CAST
Julianne Moore
... Cathy Whitaker
Dennis Quaid
... Frank Whitaker
Dennis Haysbert
... Raymond Deagan
Patricia Clarkson
... Eleanor Fine
Viola Davis
... Sybil
James Rebhorn
... Dr. Bowman
Bette Henritze
... Mrs. Leacock
Michael Gaston
... Stan Fine
Ryan Ward
... David Whitaker
Lindsay Andretta
... Janice Whitaker
Jordan Puryear
... Sarah Deagan
Kyle Smith
... Billy Hutchinson
Celia Weston
... Mona Lauder
Barbara Garrick
... Doreen
Olivia Birkelund
... Nancy
Stevie Ray Dallimore
... Dick Dawson
Mylika Davis
... Esther
Jason Franklin
... Photographer
Gregory Marlow
... Reginald Carter
C. C. Loveheart
... Marlene
June Squibb
... Elderly Woman
Laurent Giroux
... Man with Mustache
Alex Santoriello
... Spanish Bartender
Matt Malloy
... Red Faced Man
J. B. Adams
... Farnsworth
Kevin Carrigan
... Soda Jerk
Chance Kelly
... Tallman
Declan Baldwin
... Officer #1
Brian Delate
... Officer #2
Pamela Evans
... Kitty
Joe Holt
... Hotel Waiter
Ben Moss
... Hutch's Friend
Susan Willis
... Receptionist
Karl Schroeder
... Conductor
Lance Olds
... Bail Clerk
Johnathan McClain
... Staff Member #1
Nicholas Joy
... Blond Boy
Virl Andrick
... Blond Boy's Father
Jezebel Montero
... Hooker
Geraldine Bartlett
... Woman at Party
Ernest Rayford III
... Glaring Man
Duane McLaughlin
... Jake
Betsy Aidem
... Pool Mother
Mary Anna Klindtworth
... Pool Daughter
Ted Neustadt
... Ron
Thomas Torres
... Band Leader
Blondell Cooper
... Hostess
REVIEWS
Review by B.Kiser (posted on 1-Mar-2008)
Worst movie I have seen in quite some time. Dennis Quaid is a favorite of mine, and why he chose to do something this bad is something I do not understand. He chose to play a gay? Why? He was lousy in this movie. The parenting skills displayed by the two disfunctial parents was deplorable. The only redeeming feature was the scenery. Did this bomb make it to the big screen? I just rented it because of Quaid. Wasted my money, big time.
---
Do you know something we don't?
Submit a correction or make a comment about this profile

Copyright ©2019 Soylent Communications