Dan in Real Life (26-Oct-2007)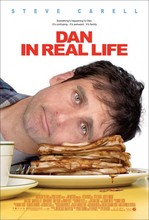 Director: Peter Hedges
Writers: Pierce Gardner; Peter Hedges




A widowed father looking to move on with his life inadvertently falls in love with his misogynistic brother's girlfriend.
ABSTRACT
Dan Burns, New Jersey-based advice columnist and widowed father four years on from his wife's death, heads to Rhode Island with his three daughters in tow for the Burns clan's annual reunion. At a bookstore, Dan meets and instantly falls for a woman named Marie, embarking on a soul-baring session punctuated by her unfortunate revelation that she is in a relationship; an awkward episode ensues when Dan learns that her boyfriend is his skirt-chasing brother Mitch, setting the stage for a family reunion to remember for all the wrong reasons.
REVIEWS
Review by Steve (posted on 30-Oct-2007)
A suprisingly good romantic comedy. For the first 30 minutes, I kept thinking that this should have been Greg Kinnear in the lead. Carell pulled it off beautifully, and showed much broader range than previous films. As a widowed father of three young daughters, he had depth, wit, and pathos. Juliette Binoche provided an atractive, and intellegent partner. I hope that she continues to act in more American films. Though predictable, the script used the strong cast to advantage, and allowed for several nice little side moments. John Mahoney, and Diane Weist as the parents were spot on. All three daughters rounded out the cast.
---
Do you know something we don't?
Submit a correction or make a comment about this profile

Copyright ©2019 Soylent Communications