Grey Gardens (27-Sep-1975)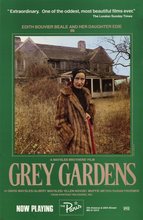 Directors: Ellen Hovde; Albert Maysles; David Maysles; Muffie Meyer
Keywords: Documentary, Biography




Very strange cinema vérité of the lives of Edith Bouvier Beale and her daughter, Edie, living together in a decrepit 28 room mansion in the Hamptons. The elder Edith just happens to be first cousin of former First Lady Jacqueline Kennedy Onassis, and both women just happen to be mentally ill and lost in time. Viewers become privy to cats urinating on the bed, in-house raccoons, meals ice-cream-on-cracker, and endless babbling between the two batty women. The film can be difficult to watch sometimes but it is quite intriguing. A classic documentary.
| Name | Occupation | Birth | Death | Known for |
| --- | --- | --- | --- | --- |
| Norman Vincent Peale | Religion | 31-May-1898 | 24-Dec-1993 | The Power of Positive Thinking |
REVIEWS
Review by Alaan and Daviv Mayles (posted on 30-Apr-2009)
A very sad but intriguing documentary on the lives of one of Jacqueline Kennedy's aunts and her daughter. Starting out as a very "High Society" family, for all the money and prestige they had, it declines with a cheating husband, who eventually divorces Edi, and leaves her to raise their 3 children, and "compassionately" gives her a sum of $150.00 a month to do it with. The home in E. Hampton was in Edie's name,and in her lifetime she never sells it, because it is, in my opinion, her "rock." You say they were both "eccentric" women. Name me one woman in any income range that wouldn't be a little "off" if that's all she had to live on, maintain a home, and raise a child. I don't believe there were any government programs,food stamps or welfare back the in the early 30's. Her sons only "appear" after the father dies, and it seems like their efforts to get power of attorney from their Mom is so they can sell the house and put her away somewhere. I didn't hear either of them offer to help her in any way. I kept wondering to myself as I watched it, "why wasn't Jackie O offering to help. They were so reclusive, no one knew of the terribly unsanitary conditions they were living in, until neighbors "downwind" complained of the smell coming from their estate. When Officials finally enter the home and the news hits the front pages of every paper, does Jackie O intervene, and I must say, her compassion for them surprised me. She finally gets Edie to accept her generous offer and the home is restored not to original specs but very livable for them both. According to the "credits" at the end of the movie, Edi passes away the following year, and Little Edi sells the home, moves several times and ends up in Bel Harbor Fla. You can call them "eccentric" but I think they both found strength in each other and an inner strength that many women today have, where you can live in this world without a man at the helm!! In my 73 years, I have never seen a man who couldn't do what they did. Men need women in their lives, women don't. This story takes place in the early 30s and progresses to the 70s, but let me add one more thing. It continues to happen as I write (2009) and will go on till the end of time, with the same results. Women have an inner strength that men can only hope for.I imagine you will "classify" this docudrama as a "women's movie." That's ok, I understand.
---
Do you know something we don't?
Submit a correction or make a comment about this profile

Copyright ©2019 Soylent Communications