Owning Mahowny (23-Jan-2003)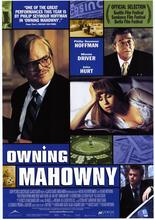 Director: Richard Kwietniowski
Writer: Maurice Chauvet
Based on a book: Stung: The Incredible Obsession of Brian Molony by Gary Stephen Ross
Music by: The Insects; Richard Grassey-Lewis; featuring John Hassell
Producers: Andras Hamori; Seaton McLean; Alessandro Camon
Keywords: Crime, Embezzlement, Gambling




True story-inspired crime drama tells the tale of a high-powered gambling-addicted bank manager and his messy situation.
ABSTRACT
Dan Mahowny -- a silver-screen caricature of real-life Canadian bank clerk and convicted embezzler Brian Molony -- is a morally-challenged employee at a big-name Canadian bank, consumed by a growing lust for easy money and addiction to gambling as he moves up through the ranks of his employer and gains access to ever-larger accounts valued in the millions. Mahowny's compulsions ultimately give way to embezzlement, sending a long line of dominoes tumbling down one another another in a character piece about a man and his torturous vices.
CAST
Philip Seymour Hoffman
... Dan Mahowny
Minnie Driver
... Belinda
Maury Chaykin
... Frank Perlin
and
John Hurt
... Victor Foss
Ian Tracey
... Det. Ben Lock
Sonja Smits
... Dana Selkirk
Chris Collins
... Bernie
Jason Blicker
... Dave Quinson
Vincent Corazza
... Doug
Roger Dunn
... Bill Gooden
Eric Fink
... Psychologist
Mike "Nug" Nahrgang
... Parking Attendant
Tanya Henley
... Teller
Brona Brown
... Teller
Philip Craig
... Briggs
Michael Caruana
... Alex Retsner
Gary Brennan
... Man in Ice Rink
Matthew Ferguson
... Martin
Tannis Burnett
... Mary the Teller
Steve Cumyn
... Observer #1
Tony Munch
... Observer #2
Lorn Eisen
... Blackjack Dealer
M. J. Kang
... Secretary
Janine Theriault
... Maggie
Lina Felice
... Hot Date Teller
Jim Aldridge
... Customs Officer
Karen Robinson
... Cage Woman
Conrad Dunn
... Edgar
Lani Billard
... Tori the Teller
Judah Katz
... Broker
Carol Anderson
... Securities Clerk
Sherry Hilliard
... Prostitute
Nicco Lorenzo Garcia
... New Observer Recruit
Carmela Albero
... Quinson's Mother
Keith Knight
... Surveillance Operator
Matthew MacFadzean
... Office Cop
Paul Hubbard
... Vegas Casino Manager
Dennis Mirkovic
... Vegas Floorman
David Collins
... Private Investigator
Tony Stellisano
... Vegas Stickman
Ted Ludzik
... Vegas Security Guard
James McGrath
... Old Man on the Piano
Darren McGuire
... Guy Pulled by Zamboni
Russell Yuen
... Auditor
Linda Goranson
... Belinda's Mother
Stan Coles
... Belinda's Father
Daniel Schneiderman
... Security Official
Demetrius Joyette
... Boy
R. Carson Durven
... Shifty Driver
Michael Tait
... Mr. Selkirk
Marvin Karon
... Atlantic City Accountant
Frank Moore
... Atlantic City CFO
Bob Zidel
... Atlantic City Chief Executive
Joe Pingue
... Plain Clothes Cop
Makyla Smith
... Car Rental Girl
Claudio Masciulli
... Detective #1
Robbie Rox
... Detective #2
Angelo Pedari
... Craps Table Man
Troy Skog
... Atlantic City Floorman
Scott Wickware
... Uniformed Cop
Alex Poch-Goldin
... Investigator #1
Joseph Scoren
... Investigator #2
REVIEWS
Review by Nic (posted on 6-Nov-2007)
Owning Mahoney begins with an unassuming mile manner man talking about his first job at a bank. The movie details how the life of a talented middle-management banker spirals out of control. One small act of deceit leads to a larger cover-up, which is covered up by another act of deceit. Throughout out the film you desperately wish that the lead character would overcome his demons and make wise decides. The main character is extreemly likable dispite his flaws.
---
Do you know something we don't?
Submit a correction or make a comment about this profile

Copyright ©2019 Soylent Communications