How to Steal a Million (13-Jul-1966)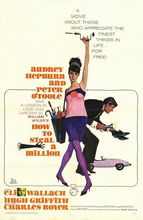 Director: William Wyler
Writers: George Bradshaw; Harry Kurnitz
Music: Johnny Williams
Producer: Fred Kohlmar
Keywords: Crime/Comedy, Art Theft




Art forger Charles Bonnet lends a statue from his personal collection to a museum for an exhibition, only to realize later they will test the "Cellini" for authenticity. As this was sculpted by his father, also in the family business, it would be disastrous should this fact be discovered. Bonnet's daughter Nicole enlists a cat burglar to help steal it back. Wonderful caper.
[watch trailer]
| Name | Occupation | Birth | Death | Known for |
| --- | --- | --- | --- | --- |
| Charles Boyer | Actor | 28-Aug-1899 | 26-Aug-1978 | Four Horsemen of the Apocalypse |
| Marcel Dalio | Actor | 17-Jul-1900 | 20-Nov-1983 | The Sun Also Rises |
| Fernand Gravey | Actor | 25-Dec-1905 | 2-Nov-1970 | The King and the Chorus Girl |
| Hugh Griffith | Actor | 30-May-1912 | 14-May-1980 | Sheik Ilderim in Ben-Hur |
| Audrey Hepburn | Actor | 4-May-1929 | 20-Jan-1993 | My Fair Lady |
| Jacques Marin | Actor | 9-Sep-1919 | 10-Jan-2001 | Charade |
| Peter O'Toole | Actor | 2-Aug-1932 | 14-Dec-2013 | Lawrence of Arabia |
| Eli Wallach | Actor | 7-Dec-1915 | 24-Jun-2014 | The Magnificent Seven |
CAST
REVIEWS
Review by Wilde_hewlett (posted on 14-Dec-2007)
In this sparkling 60's film set in beautiful Paris and zippy one-liners, Peter O'Toole and Audrey Hepburn shine. The story revolves around Hepburn's character and her art-forger father who continuously sells his fakes to Parisian and international galleries at extortionate prices. This worries Hepburn and she wants him to stop but he can't and goes to far when he presents a 'lost Cellini Venus' to the world. Enter O'Toole, a mysterious man who breaks into the house of Hepburn and tries to get away with her 'Van Gogh". As the story moves on, the two become intertwined in robbery, deciept and comedic script. Beautifully filmed, and arranged, this well-written gem is a classic.
---
Do you know something we don't?
Submit a correction or make a comment about this profile

Copyright ©2019 Soylent Communications