Gidget (10-Apr-1959)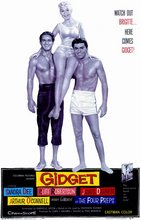 Director: Paul Wendkos
Writer: Gabrielle Upton
From novel: Gidget: The Little Girl with Big Ideas by Frederick Kohner
Music Supervised and Conducted by: Morris Stoloff
Producer: Lewis J. Rachmil




Gidget (girl+midget, modeled after Frederick Kohner's daughter), a 16-year-old, hangs out at the beach, surfs, and meets a college boy named Moondoggie. Later it turns out Moondoggie is who her father was trying to fix her up with. Good beach movie followed by four lesser sequels, none of which feature Sandra Dee.
| Name | Occupation | Birth | Death | Known for |
| --- | --- | --- | --- | --- |
| Yvonne Craig | Actor | 16-May-1937 | 17-Aug-2015 | Batgirl on Batman |
| James Darren | Actor | 8-Jun-1936 | | The Time Tunnel |
| Sandra Dee | Actor | 23-Apr-1942 | 20-Feb-2005 | Gidget |
| Tom Laughlin | Actor | 10-Aug-1931 | 12-Dec-2013 | Billy Jack |
| Doug McClure | Actor | 11-May-1935 | 5-Feb-1995 | Trampas in The Virginian |
| Arthur O'Connell | Actor | 29-Mar-1908 | 18-May-1981 | Anatomy of a Murder |
| Cliff Robertson | Actor | 9-Sep-1923 | 10-Sep-2011 | Uncle Ben in Spider-Man |
CAST
REVIEWS
Review by Suzie (posted on 6-Apr-2008)
First of all James Darren played "Moondoggie" in all three movies. It was the female stars that changed. Gidget was Sandra Dee. Gidget goes Hawaiian was Deborah Wally. Gidget goes to Rome was Cindy Carol. Sandra Dee was married to Bobby Darrin. James Darren said; he had a little crush on Sandra Dee during the making of the film. Sandra Dee was only 17 during the making of the movie. And she had a very strict mother.
---
Review by San Jose Lance (posted on 1-Apr-2005)
Call me a fag, but I really like this movie. This film has actually been credited with starting the surfing craze that began in the early 1960's and continues to this day.
Sandra Dee plays an innocent high school aged teenager who experiences (for the first time) the heartache that accompanies adolescent love. She falls for "Moon Doggie" played by Bobby Darin. In real life these two were actually married (about a year after this movie's release).
Cliff Robertson (The Big Kahuna) plays the lead role as an ex military pilot who strains to readjust to civilian life and takes up with a younger crowd of men who live for surfing, partying and the beach life.
This one's got four stars in my book.
Lance Austin, San Jose California
---
Do you know something we don't?
Submit a correction or make a comment about this profile

Copyright ©2019 Soylent Communications