Malèna (27-Oct-2000)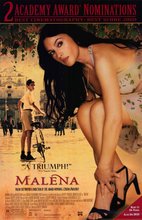 Director: Giuseppe Tornatore
Writers: Giuseppe Tornatore; Luciano Vincenzoni
Music Composed, Orchestrated, and Directed by: Ennio Morricone
Producers: Harvey Weinstein; Carlo Bernasconi
Keywords: Romantic Drama, WWII




A young man grows infatuated with an attractive older woman against the backdrop of World War II-era Italy.
ABSTRACT
Italy, 1940: Fascist dictator Benito Mussolini is in power, World War II rages on in Europe, and young Sicilian boy Renato wants nothing more than to find his way in the world and chase girls, prevailing political climate be damned. The arrival of beautiful older woman Malena, in town to be with her husband, sparks a sexual awakening of sorts for Renato; when the war situation worsens, his connection with her takes on surprising new forms, as her husband's military service and supposed death sees her becoming a prostitute to survive.
[watch trailer]
| Name | Occupation | Birth | Death | Known for |
| --- | --- | --- | --- | --- |
| Monica Bellucci | Actor | 30-Sep-1964 | | L'Appartement |
CAST
Starring
Monica Bellucci
... Malčna Scordia
Introducing
Giuseppe Sulfaro
... Renato Amoroso
Luciano Federico
... Renato's Father
Matilde Piana
... Renato's Mother
Pietro Notarianni
... Prof. Bonsignore
Gaetano Aronica
... Nino Scordia
Gilberto Idone
... Lawyer Centorbi
Angelo Pellegrino
... Political Secretary
Gabriella di Luzio
... Baron's Mistress
Pippo Provvidenti
... Dr. Cusimano
Maria Terranova
... Dr. Cusimano's Wife
Marcello Catalano
... Lt. Cadel
Elisa Morucci
... Lupetta
Domenico Gennaro
... Pharmacist
Vitalba Andrea
... Pharmacist's Wife
Pippo Pattavina
... Magistrate
Franco Catalano
... Storekeeper
Daniele Arena
... Agostino
Giovanni Litrico
... Pinč
Gianluca Guarrera
... Nicola
Michel Daniel Bramanti
... Sasŕ
Giuseppe Zizzo
... Tanino
Totň Borgese
... Fascist Soldier
Emanuele Gullotto
... Record Store Owner
Rori Quattrocchi
... Brother Owner
Claudia Muzii
... First Prostitute
Ornella Giusto
... Second Prostitute
Conchita Puglisi
... Third Prostitute
Noemi Giarratana
... Sister Renato
Paola Pace
... First Lynching Woman
Lucia Sardo
... Second Lynching Woman
REVIEWS
Review by mizi causevic (posted on 13-Feb-2005)
An interesting little film from Italy with an absolutely beautiful international actress Monica Bellucci (Brotherhood Of The Wolf and Under Suspicion). The story is narrated by Renato, a young boy torn between adolescence and adulthood. We see Malena's life through his eyes and the eyes of the other men in the small village that lust over Malena who just so happens to be a a gorgeous, stunning girl that all men lust all over. Her husband is off on the battlefield fighting a war and she is left by herself. No money, no job. Nothing. She is surrounded by horny men who would do anything to get with her, this also includes the narrator Renato who is just now exploring sexuality and all he sees day and night is the breathtaking Malena.
The gossip around the small village circles around Malena but Renato is blinded by love. (This reminds me of Last Exit To Brooklyn a bit too much). Renato defends Melena in any way he can, he also fantasizes about Malena quite often which shortly after turns into an obsession. He follows her day and night, he knows her probably better than she knows herself. He ditches school and his family only to watch her walk by, seeing her is an absolute heaven to Renato. Shortly after the story turns sour and we learn how jealous the women in the village really are, rumors start flying left and right about various lovers which some of them are unfortunately true but there is much more to it. Malena is an exotic beauty that turns the local village upside down and also the life of Renato.
I guess this movie is one of the light-hearted dramas that is strikingly original and it will most likely be appreciated more by the European crowd than the American. I am simply saying this because certain people tend not to watch movies simply because they are subtitled. I strongly recommend this movie to anyone who is a fan of dramatic movies. Give it a chance, you might end of liking it, I know I did.
---
Do you know something we don't?
Submit a correction or make a comment about this profile

Copyright ©2019 Soylent Communications