It Happened One Night (22-Feb-1934)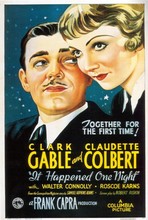 Director: Frank Capra
Writer: Robert Riskin
From short story: Night Bus by Samuel Hopkins Adams
Musical Director: Louis Silvers
Keywords: Romantic Comedy




Socialite daughter of a wealthy banker, upset that her father has had her marriage annulled, jumps overboard from her family's yacht and makes her way by bus from Miami to New York City to see her husband, aviator King Westley. Along the way she encounters a reporter, who offers to assist her in exchange for exclusive rights to her story. Won Oscars for Best Picture, Best Director, Best Actor, Best Actress and Best Adaptation. Entered 1993 into the National Film Registry.
Emanuel Levy, All about Oscar: The History and Politics of the Academy Awards (2003):
It Happened One Night was influential in other ways. It is credited with exerting impact on the fashion industry: When Gable took off his shirt and exposed his sexy bare chest, the sale of undershirts declined substantially. The comedy also boosted tourism, with a tremendous increase in the number of women traveling by bus hoping to meet their "white knights" on the road.
While it is easy to find sources to "substantiate" this story, tales of undershirt catastrophe are an urban legend.

[watch trailer]
| Name | Occupation | Birth | Death | Known for |
| --- | --- | --- | --- | --- |
| Claudette Colbert | Actor | 13-Sep-1903 | 30-Jul-1996 | It Happened One Night |
| Walter Connolly | Actor | 8-Apr-1887 | 28-May-1940 | It Happened One Night |
| Clark Gable | Actor | 1-Feb-1901 | 16-Nov-1960 | Gone With the Wind |
| Alan Hale, Sr. | Actor | 10-Feb-1892 | 22-Jan-1950 | The Adventures of Robin Hood |
| Roscoe Karns | Actor | 7-Sep-1891 | 6-Feb-1970 | It Happened One Night |
| Jameson Thomas | Actor | 24-Mar-1888 | 10-Jan-1939 | British stage, minor Hollywood actor |
CAST
REVIEWS
Do you know something we don't?
Submit a correction or make a comment about this profile

Copyright ©2019 Soylent Communications