The Asphalt Jungle (23-May-1950)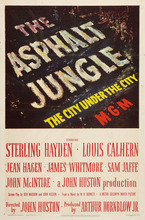 Director: John Huston
Writers: Ben Maddow; John Huston
From novel: The Asphalt Jungle by W. R. Burnett
Music by: Miklos Rozsa
Producer: Arthur Hornblow, Jr.
Keywords: Crime, Film Noir, Heist




A carefully planned $500,000 jewel heist initially succeeds, then falls apart amongst suspicion and double crosses. Gritty and realistic masterpiece of film noir, told from the multiple points of view of all of the flawed individuals involved. Nominated for four Oscars including Best Director and Best Actor.
[watch trailer]
| Name | Occupation | Birth | Death | Known for |
| --- | --- | --- | --- | --- |
| Louis Calhern | Actor | 19-Feb-1895 | 12-May-1956 | Duck Soup |
| Anthony Caruso | Actor | 7-Apr-1916 | 4-Apr-2003 | American character actor |
| Brad Dexter | Actor | 9-Apr-1917 | 12-Dec-2002 | The Magnificent Seven |
| Jean Hagen | Actor | 3-Aug-1923 | 29-Aug-1977 | Singin' in the Rain |
| Sterling Hayden | Actor | 26-Mar-1916 | 23-May-1986 | Jack D. Ripper in Dr. Strangelove |
| Sam Jaffe | Actor | 10-Mar-1891 | 24-Mar-1984 | Gunga Din |
| Marc Lawrence | Actor | 17-Feb-1910 | 28-Nov-2005 | Prolific character actor |
| John McIntire | Actor | 27-Jun-1907 | 30-Jan-1991 | Christopher Hale on Wagon Train |
| Marilyn Monroe | Actor | 1-Jun-1926 | 5-Aug-1962 | Some Like It Hot |
| Dorothy Tree | Actor | 21-May-1906 | 13-Feb-1992 | City of Darkness |
| James Whitmore | Actor | 1-Oct-1921 | 6-Feb-2009 | Give 'em Hell, Harry! |
CAST
REVIEWS
Do you know something we don't?
Submit a correction or make a comment about this profile

Copyright ©2019 Soylent Communications