Once Upon a Time in the West (21-Dec-1968)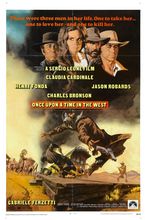 Original Title: C'era una volta il West
Director: Sergio Leone
Writers: Dario Argento; Bernardo Bertolucci; Sergio Donati; Sergio Leone
Music Composed and Conducted by: Ennio Morricone
Producer: Fulvio Morsella
Keywords: Spaghetti Western




A woman's family is murdered by orders of a railroad baron who coverts their land for its water. The widow comes to claim her property; a man with a harmonica stalks the assassin for his own personal reasons. Sergio Leone's finest western. Entered into the National Film Registry in 2009.
"OUATITW in particular is a huge and wonderfully vulgar overstatement of the already overstated archetypes of American film westerns. In this movie gunshots seem as loud as atomic blasts; close-ups seem to go on for minutes at a stretch, gunfights for hours; and the streets of Leone's peculiar little Western towns all seem as wide as freeways." -- Stephen King
[watch trailer]
| Name | Occupation | Birth | Death | Known for |
| --- | --- | --- | --- | --- |
| Charles Bronson | Actor | 3-Nov-1921 | 30-Aug-2003 | Death Wish |
| Claudia Cardinale | Actor | 15-Apr-1938 | | Once Upon a Time in the West |
| Jack Elam | Actor | 13-Nov-1918 | 20-Oct-2003 | The Sundowners |
| Henry Fonda | Actor | 16-May-1905 | 12-Aug-1982 | 12 Angry Men |
| Jason Robards | Actor | 26-Jul-1922 | 26-Dec-2000 | All The President's Men |
| Lionel Stander | Actor | 11-Jan-1908 | 30-Nov-1994 | Chauffer Max on Hart to Hart |
| Woody Strode | Actor | 28-Jul-1914 | 31-Dec-1994 | Sergeant Rutledge |
| Keenan Wynn | Actor | 27-Jul-1916 | 14-Oct-1986 | Col. Bat Guano in Dr. Strangelove |
CAST
REVIEWS
Review by Sheron Phelps (posted on 14-Mar-2008)
This is perhaps the best western movie I have ever seen. Aside from the fact that it brings together some of the finest actors available (including amazing character actors Woody Strode and Jack Elam), the costumes, the scenery and the action are amazing! To my knowledge, this is the only role where Henry Fonda plays a "super baddie" and he does it so well that it makes me wonder why he's never been cast as a heavy before this. The musical score completes the whole presentation and offers the viewer a truly exciting viewing experience. This movie is one that I visit at least once a year.
---
Do you know something we don't?
Submit a correction or make a comment about this profile

Copyright ©2019 Soylent Communications