The Ten Commandments (5-Oct-1956)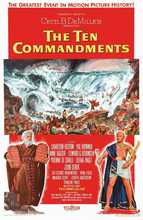 Director: Cecil B. DeMille
Writers: Fredric M. Frank; Jack Gariss; Jesse L. Lasky, Jr.; Aeneas MacKenzie
Music: Elmer Bernstein
Producer: Cecil B. DeMille




Egyptian princess Bithiah raises the found baby Moses as her son, who one day may become Pharaoh. But after he learns his Hebrew origins, Pharaoh turns Moses out to the desert. Moses learns from the Burning Bush that he must deliver the Israelites from slavery. Remake of Cecil B. DeMille's own The Ten Commandments (1923). Won Oscar for Best Special Effects; received 6 nominations including Best Picture and Best Cinematography. Entered 1999 into the National Film Registry.
REVIEWS
Review by anonymous (posted on 5-May-2006)
ABSOLUTELY, THE BEST FILM EVER PRODUCED! A real cast of thousands; not computer generated. Starring a lead actor with real character and not just an actor portraying a character. Charlton Heston is the best of the best and this role was practically made around him. Supported by a cast that did well augmenting Heston's commanding role. I recommend that everyone should watch this movie at least once a month for the rest of their lives....it's that good! Ofter overlooked is the high CALIBER (thank you Mr. Heston, NRA president) of subtle humor in this movie. Who could have thought that Moses, Moses would be so funny. BEHOLD HIS MIGHTY HANDS.....Mr. Heston's that is!
---
Do you know something we don't?
Submit a correction or make a comment about this profile

Copyright ©2019 Soylent Communications