Dead Man (26-May-1995)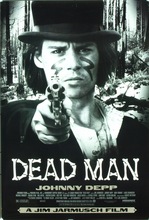 Director: Jim Jarmusch
Writer: Jim Jarmusch
Music Composed and Performed by: Neil Young
Producer: Demetra J. MacBride
Keywords: Western, Cannibalism, Surreal




A young accountant from Cleveland travels to the town of Machine, at the "end of the line", for a bookkeeping job only to find that it has been assigned to someone else. Almost immediately, an unfortunate circumstance finds him in the crosshairs of his would-be employer, the most important man in town. Black & white.
[watch trailer]
CAST
Johnny Depp
... William Blake
Gary Farmer
... Nobody
Lance Henriksen
... Cole Wilson
Michael Wincott
... Conway Twill
Mili Avital
... Thel Russell
Iggy Pop
... Salvatore "Sally" Jenko
Billy Bob Thornton
... Big George Drakoulious
Jared Harris
... Benmont Tench
Crispin Glover
... Train Fireman
Eugene Byrd
... Johnny "The Kid" Pickett
Michelle Thrush
... Nobody's Girlfriend
Jimmie Ray Weeks
... Marvin (Older Marshal)
Mark Bringelson
... Lee (Younger Marshal)
Gabriel Byrne
... Charlie Dickinson
John Hurt
... John Scholfield
Alfred Molina
... Trading Post Missionary
Robert Mitchum
... John Dickinson
Gibby Haynes
... Man with Gun in Alley
George Duckworth
... Man at End of Street
Richard Boes
... Man with Wrench
John North
... Mr. Olafsen
Peter Schrum
... Drunk
Thomas Bettles
... First Young Nobody
Daniel Chas Stacy
... Second Young Nobody
Mike Dawson
... Old Man with Wanted Posters
John Pattison
... 1st Man at Trading Post
Todd Pfeiffer
... 2nd Man at Trading Post
Leonard Bowechop
... Makah Villager
Cecil Cheeka
... Makah Villager
Michael McCarty
... Makah Villager
REVIEWS
Review by Johny Depp (posted on 31-Aug-2005)
Well, this movie is a surreal and spiritual journey through the after-life. From the begining "William Blake" is fated to die and the rest of the picture shows him and the viewer (who is implicated in already having seen the movie of his life in the opening scene), Blake's eventual demise. You could say, that the adventures and gradual salvation encoutered through Blake's death is somewhat like the Bhuddist beliefs of 'Karmic Visions' after death. This is where the dead man is not aware he his dead and undergoes experiences and encounters that are succesively more deprave and terrifying, before (if he's lucky) achieving enlightement and seeing the clear light of the void or Nirvana. His only companion throughout, convienently named 'Nobody' is rather like the Indian Crow who guides the Dead's soul to the afterlife. His wisdom and ironic mistaken identification of Blake join the odd-couple, "the endless night and sweet delight" if you will, in a perfect harmony of morbid enlightement. Or -- to sum up -- it's a western thriller with a hint of intrigue, a lot of shootings, some bisexual highwaymen and a guest appearence by the rock-n-roll icon Iggy Pop. Be warned! it's in black and white... how very boring
---
Review by Angelphotographer (posted on 20-Mar-2005)
The only other review I have read of this piece called it "The first post-punk Western," whatever that might mean. Black and White, anti-stereotypical, antipathetic to "Fucking White-People," and a Mystical Journey combining the philosophy of William Blake and spirituality of Native Americans, with an over-the-top musical score by Neil Diamond, this is not The Ponderosa revisited.
Whites demonstrate their subhuman savagery from the first scenes and prove it throughout the movie. Johnny Depp, as William Blake's 19th-Century namesake, is the only anglo with any nobility on any level. Gary Farmer's portrayal of "Nobody," a cross-bred warrior/mystic is superb and makes him at least as strong a lead as Depp.
In a saga carrying the viewer from a senseless bison slaughter on the Northern Plains, through a pathetically evil mining town, not unlike Deadwood where Depp begins his journey through his death, with his further encounters of vile and sadistic, if not psychotic characters to his final voyage, the movie pulls the discerning viewer into a world too monstrous to imagine in our time...unless we look at the atrocities being perpetrated in many African and Middle-Eastern countries today.
This is a movie for those among us who live to conceptualize and create as opposed to those who want to be led through their lives without social conscience or feelings of responsibility to evolve.
Not for everyone, but a must-see for the discriminating viewer.
---
Do you know something we don't?
Submit a correction or make a comment about this profile

Copyright ©2016 Soylent Communications