Jeepers Creepers (20-Jul-2001)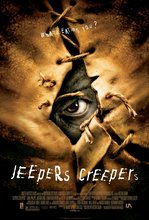 Director: Victor Salva
Writer: Victor Salva
Music Composed and Conducted by: Bennett Salvay
Producers: Barry Opper; Tom Luse
Keywords: Horror




Siblings on a spring break drive back home cross paths with a supernatural creature as vicious as it is hungry.
ABSTRACT
Darry and Patricia Jenner, siblings driving home from school for spring break, happen upon a mysterious ordeal on their way through the countryside that appears to involve a body being dumped into a tunnel. Allowing their curiosity to get the best of them, the pair decide to investigate, discovering a makeshift cavern full of mutilated bodies and becoming the latest targets of a supernatural creature nearing the end of its yearly eating ritual as a direct consequence of their actions.
| Name | Occupation | Birth | Death | Known for |
| --- | --- | --- | --- | --- |
| Eileen Brennan | Actor | 3-Sep-1932 | 28-Jul-2013 | Capt. Lewis in Private Benjamin |
| Justin Long | Actor | 2-Jun-1978 | | Dodgeball: A True Underdog Story |
| Gina Philips | Actor | 10-May-1975 | | Jeepers Creepers |
CAST
Gina Philips
... Trish
Justin Long
... Darry
Jonathan Breck
... The Creeper
Patricia Belcher
... Jezelle Gay Hartman
Brandon Smith
... Sgt. Davis Tubbs
and
Eileen Brennan
... The Cat Lady
Peggy Sheffield
... Waitress Beverly
Jeffrey William Evans
... Manager
Patrick Cherry
... Binky
Jon Beshara
... Trooper Gideon
Avis-Marie Barnes
... Trooper Weston
Steven Raulerson
... Cellblock Officer
Tom Tarantini
... Roach
Will Hasenzahl
... Officer with Hole in Chest
Kim Kahana
... Camper Driver
Chris Shepardson
... Dying Boy
REVIEWS
Review by Vito Pasquinelli (posted on 20-Feb-2005)
As the millenium starts to settle in, we can see towards a bright future for films. Jeepers Creepers isn't exactly the best horror film to come along, but with a fresh, new monster in the world of horror, a brilliant cast and plot, it's perhaps the best in about a decade.
The plot is when brother and sister, Trish and Darry (Gina Phillips & Justin Long) have an unsettling encounter with a battered old truck. Later on, when the truck continues up the road, they see it again at an old church, with the driver apparently dumping a blood-stained old bag down a pipe leading to an old celler.
A frenzied car chase then ensues, after the trucker decides that Trish and Darry are going to be his (or its) next victims. When they lose the truck, they go back and find a mini-version of Frankenstein's lair -- hundreds of bodies stitched together, and laboratory equipment to help preserve them.
Thus, the kids unleash a terrifying, flesh-consuming force. When the creature, humanoid thing, played fantastically by Jonathan Breck, is revealed, things go from bad to worse, and then they discover that the thing has taken rather a shine to one of them. Will they survive, or will they end as tasty morsels for The Creeper?
---
Do you know something we don't?
Submit a correction or make a comment about this profile

Copyright ©2019 Soylent Communications