This Property Is Condemned (3-Aug-1966)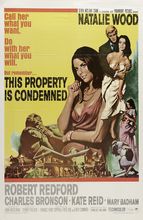 Director: Sydney Pollack
Writers: Francis Ford Coppola; Fred Coe; Edith Sommer
From a play: This Property Is Condemned by Tennessee Williams
Keywords: Drama




Railroad official Owen Legate visits a small Mississippi town to lay off most of the company's employees; at a boarding house he finds Alva Starr, a very pretty but naive girl using her looks both to lure potential boarders and eventually, find the right man who can take her away. Told in flashback from the point of view of the younger sister. Underrated; one of Natalie Wood's finest performances.
[watch trailer]
REVIEWS
Review by Sheila (posted on 10-Oct-2007)
Excellent movie which I suppose nowadays would be considered a "sleeper." One of the few movies with Charles Bronson playing a sleaze and the only other major movie child actress Mary Badham (Scout in "To Kill A Mockingbird") ever did. Natalie Wood is wonderful as the bad girl from the wrong side of the tracks who finds love with visiting railroad executive Robert Redford. When she finally tries to turn her life around, a one night mistake comes back to haunt her and consequently costs her her life.
---
Review by Gehret, M (posted on 8-Sep-2007)
For the period that it depicted, this is a really deep emotional and retrospective film with solid acting all around. The film stars Natalie Wood, Robert Blake, Robert Redford with many supporting roles of known actors (as well) . Natalie Wood portrays a misguided young lady whom learns (along with a younger sister) the sleazy side of life due to a former hooker mother who runs/owns the condemmned hotel. Robert Redford arrives for corporate axing to the local railway workforce but falls in love with Natalie Wood and they become an item. Redford then is found out by the locals and he retreats to New Orleans inviting his new love to follow him there. Later he finds out that she is already married.
---
Review by Joan (posted on 29-Mar-2005)
This is the most under-rated movie in the history of the cinema. Just look at the cast, the director and the writers and try to explain how they could come up with a clunker. They didn't. Second only to GWTW, it is the ultimate "chick flick." Long dismissed as a "potboiler," I think this movie, as well as Natalie Wood's other great, Love With the Proper Stranger, and Hitchcock's Marnie all have suffered tremendously as a result of the time they were released.
---
Do you know something we don't?
Submit a correction or make a comment about this profile

Copyright ©2019 Soylent Communications