Corpse Bride (8-Sep-2005)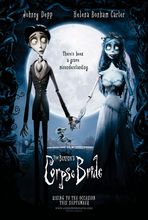 Directors: Tim Burton; Mike Johnson
Writers: John August; Pamela Pettler; Caroline Thompson
Keywords: Horror/Comedy, Romance




A groom rehearsing his wedding vows in a graveyard inadvertently attracts the undying attention of a smitten deceased young woman.
ABSTRACT
Victor Van Dort, a shy young man promised to commoner Victoria Everglot in a Victorian-era marriage of class-based convenience, heads to a graveyard in the woods to practice his vows after an embarrassing episode at their wedding rehearsal. A successful attempt to rattle said vows off accidentally attracts the attention of deceased young woman Emily, forcing Victor into an awkward situation where he must choose between brides as his wedding day draws near.
REVIEWS
Review by sfpippin (posted on 2-Oct-2005)
This is beautiful work, I am currently listening to the soundtrack, " If he only knew the you that we know." With an all-star cast with Helena Bonham Carter as Emily, the Corpse Bride; Jonny Depp as Baron Victor Von Dort; Albert Finney as Lord Finnis Everglot; Christopher Lee as Pastor Galswells; and Danny Elfman as Bonejangles, this movie is superb! It went exactly 'According to plan,' so to speak. Perfect to lift a 'Terrible day.'With the same utter beauty of "The Nighmare Before Christmas."This is another brilliant collaboration of Depp/Roy/Elfman/Finney/Carter in yet another Burton film. This is a wonderfully, deamonically dark film of love, adventure, and comedy. Though, there is a scene when the un-dead come to 'The Land Of The Living', when I believe that it would best best for Pastor Galswells to say "Begone ye Deamons of Hell! Have you not read your Gates inscription? 'You're already here. There's no turning back.'"
My favorite line: Missus Plum [evilly, with a kitchen knife in hand] "New Arrival!" {cackles, as she closes the door.}
I love you Helena! (P.S. Split with Burton, I'm more psychiatrically damaged for you, hon!)
---
Review by Lauren Brunson (posted on 25-Jun-2007)
This movie was good, but a little too dark. (Nothing new for Tim Burton.) I thought it had a well put message in it, and the music was ok. Personaly I think Tim Burton should stay with live action movies like BeetleJuice and PeeWee's Big Adventure. (I like both of them.) The setting in this movie was good, and the director's theory of life after death was interesting. As I watched this movie, I couldn't leave if I tried because I wanted to see what whould happen next. This is a good tale of death. (If you like that sort of thing.) I give The Corpse Bride three stars. (Johnny Depp was good, but he should stick with his pirate schtick.)
---
Do you know something we don't?
Submit a correction or make a comment about this profile

Copyright ©2019 Soylent Communications