Downfall (8-Sep-2004)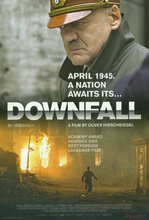 Original Title: Der Untergang
Director: Oliver Hirschbiegel
Writer: Bernd Eichinger
Based on a book: Bis zur letzten Stunde by Traudl Junge and Melissa Müller




Historical drama tells of Nazi dictator Adolf Hitler's final days in his Berlin bunker.
ABSTRACT
1945 saw the once-fearsome Nazi regime headed for a certain defeat at the hands of American and Soviet-led Allied forces, with (broken link, Joseph Stalin)'s men in particular closing in on their capital of Berlin. Determined to go down swinging, Fuhrer Adolf Hitler remained defiant in his fortified bunker, ordering his men to fight down to their last casualty. Downfall chronicles the Third Reich's death rattle from the perspective of Hitler secretary Traudl Junge, portraying the leader's collapse from strongman to paranoid headcase and eventual suicide victim as their battle drew to a close.
REVIEWS
Review by Norma gavick (posted on 9-Feb-2008)
I have watched this movie at least four times. The truth is I have what I believe to be pretty universal feelings about the content - that is - the annilation of the Jewish population in WW11, utter disgust. But from the moment I watched Mr. Ganz enter the interview room with the prospective secretaries, I believed him to be Hitler. His mannerisms, tone, behavior is exactly what I believe Hitler's to have been. There was only one performance that surprized me - Eva Braun. I didn't realize she was such a, shall we say, superflous party girl. The part of Traudl Humps-Junge was played wonderfully by the actress. I can think of two others who will remain with me for a very long time - Albert Speers and Magda Goebbels. In fact I was so taken by their charactors and their performances I have done a little research and also purchased a book about Mrs. Goebbels. This movie will remain in my collection and will be watched and appreciated many more times I assure you. Bravo to the director.
---
Do you know something we don't?
Submit a correction or make a comment about this profile

Copyright ©2019 Soylent Communications