Demolition Man (8-Oct-1993)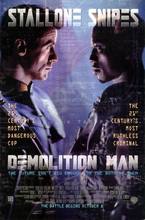 Director: Marco Brambilla
Writers: Peter M. Lenkov; Robert Reneau; Daniel Waters
Music by: Elliot Goldenthal
Producers: Joel Silver; Michael Levy; Howard Kazanjian
Keywords: Sci-Fi, Dystopian, Explosions




Los Angeles cop John Spartan ("Demolition Man" by reputation) apprehends his target Simon Phoenix, but Phoenix has cleverly made it appear that Spartan has killed an entire busload of innocent hostages in the process. Both policeman and villain receive sentences to cryonic suspension into the distance future, sentences that are interrupted after Phoenix somehow escapes. Public society in the year 2032, improbably complacent and crime-free, finds itself unable to deal with a violent criminal of the past; authorities reawaken Spartan to help them catch Phoenix once again. Underrated as social satire.
CAST
Sylvester Stallone
... John Spartan
Wesley Snipes
... Simon Phoenix
Sandra Bullock
... Lenina Huxley
Nigel Hawthorne
... Dr. Raymond Cocteau
Benjamin Bratt
... Alfredo Garcia
Bob Gunton
... Chief George Earle
Glenn Shadix
... Associate Bob
Denis Leary
... Edgar Friendly
Bill Cobbs
... Zachary Lamb (Aged)
Troy Evans
... Tough Cop
Andre Gregory
... Warden William Smithers (Aged)
Jesse Ventura
... CryoCon
Grand L. Bush
... Zachary Lamb (Young)
Pat Skipper
... Helicopter Pilot
Steve Kahan
... Capt. Healy
Paul Bollen
... TFR Officer
Mark Colson
... Warden William Smithers (Young)
John Enos III
... Prisoner
Don Charles McGovern
... Prison Guard
Patricia Rive
... Police Officer
Anneliza Scott
... Police Officer
Dean Minerd
... Police Officer
Kristopher Logan
... Troubled Guy
Paul Perri
... Squad Leader
Susan Lentini
... TV Reporter
Casey Wallace
... Little Girl
Michael Tennessee Lee
... Boggle Guard
Chris Durand
... Museum Guard
Brett Jones
... Museum Guard
Dan Cortese
... Taco Bell Entertainer
Lara Harris
... Taco Bell Patron
Sam Nehira
... Taco Bell Patron
Claude Oatts
... Taco Bell Patron
Alex Chapman
... Taco Bell Scrap
Brandy Sanders
... Fiber Op Girl
Rosemarie Lagunas
... Hamburger Stand Scrap
Ken Baldwin
... Wasteland Scrap
Jack Black
... Wasteland Scrap
Michael Buice
... Wasteland Scrap
Carlton Wilborn
... Wasteland Scrap
Charles Glass
... CryoCon
Ben Jurand
... CryoCon
Billy Lucas
... CryoCon
Rhino Michaels
... CryoCon
Toshishiro Obata
... CryoCon
REVIEWS
Review by anonymous (posted on 20-Jun-2005)
Movie is set in the future... The world has gone to fecal matter. One cop (Sylvester Stallone) does anything he can to get the bad guy (Wesley Snipes) and kick his ass. He gets frozen for kicking too much ass. In the even more future the guy who's ass he was trying to kick (Wesley) before gets unfrozen and kicks too much ass so he (Sylveser) gets unfrozen to kick the other guy's ass. Sandra Bullock is an ass to kick for as she has a beautacious ass. Sylvester Stallone kicks much ass for her. All in all the movies is a major kick ass flick.
---
Do you know something we don't?
Submit a correction or make a comment about this profile

Copyright ©2019 Soylent Communications