Get Hard (16-Mar-2015)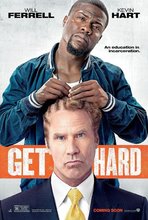 Director: Etan Cohen
Writers: Etan Cohen; Jay Martel; Adam McKay; Ian Roberts
Keywords: Comedy




A financial executive facing hard time for alleged improprieties seeks advice for surviving prison.
ABSTRACT
Wealthy hedge-fund manager James King, a tone-deaf white man insensitive to the realities of hard-up black car washer Darnell Lewis's life with his wife and young daughter, is arrested at his birthday party by federal agents eager to nab him for fraud. Afraid of life behind bars, specifically being raped in prison, James turns to "black friend" Darnell -- a mild-mannered man who must pretend to be a thug -- to learn how to "get hard" for the clink.
An interesting premise, all-star cast, and moments of inspiration are wasted on an overabundance of cheap gay jokes.
| Name | Occupation | Birth | Death | Known for |
| --- | --- | --- | --- | --- |
| Dan Bakkedahl | Comic | 18-Nov-1969 | | The Daily Show |
| Paul Ben-Victor | Actor | 24-Jul-1965 | | The Wire |
| Alison Brie | Actor | 29-Dec-1982 | | Annie Edison on Community |
| Will Ferrell | Comic | 16-Jul-1967 | | Saturday Night Live |
| Greg Germann | Actor | 26-Feb-1958 | | Richard Fish on Ally McBeal |
| Kevin Hart | Comic | 6-Jul-1978 | | Kevin Hart: Laugh at My Pain |
| T. I. | Rapper | 25-Sep-1980 | | Dirty south rapper, Trap Muzik |
| John Mayer | Musician | 16-Oct-1977 | | Your Body Is a Wonderland |
| Craig T. Nelson | Actor | 4-Apr-1946 | | Coach Hayden Fox on Coach |
REVIEWS
Do you know something we don't?
Submit a correction or make a comment about this profile

Copyright ©2019 Soylent Communications