Undercover Brother (30-May-2002)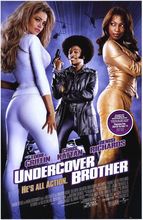 Director: Malcolm D. Lee
Writers: John Ridley; Michael McCullers
Original Music by: Stanley Clarke
Producers: Brian Grazer; Michael Jenkinson; Damon Lee
Keywords: Action/Comedy, Espionage, Spoof




A secret agent for an all-black collective heads into action to stop "The Man" from ruining a black Presidential candidacy.
ABSTRACT
Anton Jackson is a secret agent performing work for the all-black B.R.O.T.H.E.R.H.O.O.D., a group locked in a never-ending battle against "The Man"'s hegemonic all-white control of the establishment. When "The Man" attempts to derail black American general Warren Boatwell's bid for the Presidency through a smear campaign, Anton jumps into action as the "Undercover Brother" alongside partner Sistah Girl to undermine "The Man" and save Boatwell's hide.
[watch trailer]
CAST
Eddie Griffin
... Undercover Brother
Chris Kattan
... Mr. Feather
Denise Richards
... White She Devil
Dave Chappelle
... Conspiracy Brother
Aunjanue Ellis
... Sistah Girl
Chi McBride
... The Chief
Neil Patrick Harris
... Lance
Jack Noseworthy
... Mr. Elias
Gary Anthony Williams
... Smart Brother
Jim O'Connor
... Chad
Susie Spear
... Bonnie
and
Billy Dee Williams
... Gen. Boutwell
Robert Trumbull
... The Man
J. D. Hall
... Narrator (voice)
William Taylor
... Roscoe
Shauna MacDonald
... Wendy
Ron Pardo
... Chuck
Dave Pearce
... Reporter
Liz West
... Reporter
Enid-Raye Adams
... Reporter
Divine Earth Essense
... GFC Jingle Singer
Jenni Burke
... GFC Jingle Singer
Keisha T. Fraser
... GFC Jingle Singer
James C. Mathis
... GFC Announcer (voice)
Troy Taylor
... Li'l UB
Robert Townsend
... Mr. UB
Gina Sorell
... Multinational Receptionist
James Brown
... Himself
Simon Reynolds
... Golfer
Kenner Ames
... Golfer
Lee Smart
... Golf Cart Guard
David Sparrow
... Golf Cart Guard
Randy Butcher
... Bank Security Guard
Bryan Thomas
... Bank Security Guard
Tig Fong
... White She Devil's Enforcer
Darrin McGuire
... White She Devil's Enforcer
Fortress Security
Marvin Kaye
... Fortress Security
L. J. Vasilantonakis
... Fortress Security
Paul Rapovski
... Fortress Security
Layton Morrison
... Fortress Security
Marco Bianco
... Fortress Security
Nick Alachiotis
... Fortress Security
Peter Szkoda
... Fortress Security
Wayne Downer
... Fortress Security
Bryan Renfro
... Fortress Security
REVIEWS
Review by Cassandra (posted on 16-Feb-2005)
I have never really been a fan of Eddie Griffin, but this is one of the best parody films I have ever seen! Undercover Brother had all the right moves, all the right clothes, and a plot that was right on! This film was careful not to overdo its jabs at racism and inequality, but hit the mark with its social commentary that made the final cut.
Griffin was a great super hero in the only way that would ever be believable for him... straight out of the 70's complete with all the accessories. Had the film tried to make Griffin some other type of super hero (modern, from another planet, etc.) it would not have worked. He owned this role.
The comedic timing of all the characters was perfect and their chemistry blended very well on film. Chris Kattan was hilarious as the sub-villian. He overplayed his character with perfection, which matched very well with Griffin's over-the-top "Super Black Man".
The play on words, including the names of the supporting characters was excellent. Griffin's constant battle with his consciousness over black and white women was very believable and only slightly insulting (I am a single AA woman in her mid-30's). The fact that there was grains of truth sprinkled throughout the movie (particularly the interracial dating issue) made the whole thing even funnier. Great soundtrack, too.
After weeks of pleading from a friend, I finally/reluctantly decided to watch Undercover Brother when it was shown on cable. One time and I was hooked! I watched it at least 25 times before I decided that I needed a copy of my own to watch whenever I wanted. I am proud to say that I paid full-price for the DVD at a video rental store. I am a strong believer in supporting African-American art with my wallet as well as my words.
---
Do you know something we don't?
Submit a correction or make a comment about this profile

Copyright ©2019 Soylent Communications