With a Song in My Heart (4-Apr-1952)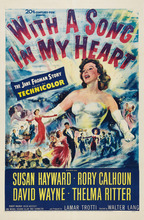 Director: Walter Lang
Writer: Lamar Trotti
Keywords: Drama, Airplane Crash, Biography




Based on a true story. Young singer Jane Froman meets and marries David Wayne; his career sinks as hers takes off. But in 1943 her USO plane crashes near Lisbon, and she suffers permanent physical injuries. During recuperation and while still married, Froman falls in love with the pilot. Won Oscar for Best Musical Score; received additional nominations for Best Actress and Supporting Actress, Best Costume Design, and Best Sound Recording.
| Name | Occupation | Birth | Death | Known for |
| --- | --- | --- | --- | --- |
| Rory Calhoun | Actor | 8-Aug-1922 | 28-Apr-1999 | Auto thief turned actor |
| Susan Hayward | Actor | 30-Jun-1918 | 14-Mar-1975 | I Want to Live! |
| Una Merkel | Actor | 10-Dec-1903 | 2-Jan-1986 | Summer and Smoke |
| Thelma Ritter | Actor | 14-Feb-1905 | 4-Feb-1969 | Stella in Rear Window |
| Max Showalter | Actor | 2-Jun-1917 | 30-Jul-2000 | Niagara |
| Robert Wagner | Actor | 10-Feb-1930 | | Jonathan Hart on Hart to Hart |
| David Wayne | Actor | 30-Jan-1914 | 9-Feb-1995 | The Andromeda Strain |
CAST
REVIEWS
Review by Barbara Buoncristiano (posted on 2-Aug-2007)
This is the story of Jane Froman, famed singer and WWII entertainer whose life and career were almost ended when her plane crashed en route to entertain troops in Europe for the USO. She survived the crash, fell in love with and married the co-pilot who saved her life, and underwent dozens of operations. She returned to Europe two years after the crash to begin the job she had started, on crutches and in wheelchair, entertaining the troops. The movie is notable for the splendid performance by Susan Hayward, playing the lead role and for Thelma Ritter as a wise-cracking nurse who keeps the singer from giving up. Hayward and Ritter were nominated for Oscars. It has a wonderful soundtrack sung by Froman, which won an Oscar for the music. Inspiring story with great music.
---
Do you know something we don't?
Submit a correction or make a comment about this profile

Copyright ©2019 Soylent Communications