The Princess Diaries (29-Jul-2001)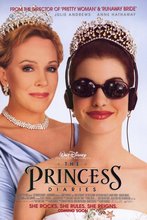 Director: Garry Marshall
Writer: Gina Wendkos
From novel: The Princess Diaries by Meg Cabot
Keywords: Comedy




A geeky high schooler learns of her status as heir to the throne of a tiny European kingdom.
ABSTRACT
Mia Thermopolis is an unapologetic dork and well-intentioned young woman struggling with the everyday challenge of surviving high school as a wallflower and bookworm. Those troubles seem like positively trifling concerns compared to what awaits Mia, however, as her estranged grandmother's unexpected entry into her lie one day brings news that she is heir to the throne of the far-away European kingdom of Genovia. Textbooks and glasses are replaced with tiaras and fabulous dresses as a reluctant Mia is groomed for the throne, struggling with unwanted waves of media attention as she is forced to choose between accepting her new lifestyle or returning to her old ways.
[watch trailer]
REVIEWS
Review by Aroha (posted on 20-May-2005)
A pleasant movie to watch, my daughter who is 3 this year enjoys Princess Diaries one and two, but keeping in mind that princess sort of movies suit Julie Andrews why, because she's a great actress who is graceful even if it's not a movie as such. I personally enjoyed the movie: GREAT!
---
Do you know something we don't?
Submit a correction or make a comment about this profile

Copyright ©2019 Soylent Communications