Nightmare Alley (9-Oct-1947)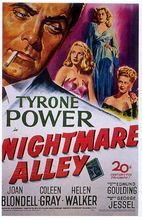 Director: Edmund Goulding
Writer: Jules Furthman
From novel: Nightmare Alley by William Lindsay Gresham




Drifter and ambitious carnie Stan Carlisle assumes half of a husband/wife mind-reading act after the husband succumbs to wood alcohol poisoning, having learned their secret code to propel the illusion. But a romantic dalliance with another carnie, Molly, forces them into a shotgun marriage; Stan and Molly leave the carnival and become a nightclub sensation as "The Great Stanton." Their greed, however, does not stop there.
| Name | Occupation | Birth | Death | Known for |
| --- | --- | --- | --- | --- |
| Joan Blondell | Actor | 30-Aug-1906 | 25-Dec-1979 | A Tree Grows in Brooklyn |
| Coleen Gray | Actor | 23-Oct-1922 | 3-Aug-2015 | Nightmare Alley |
| Taylor Holmes | Actor | 16-May-1878 | 30-Sep-1959 | Nightmare Alley |
| Ian Keith | Actor | 27-Feb-1899 | 26-Mar-1960 | It Came from Beneath the Sea |
| Mike Mazurki | Actor | 25-Dec-1907 | 9-Dec-1990 | Murder, My Sweet |
| Tyrone Power | Actor | 5-May-1913 | 15-Nov-1958 | Witness for the Prosecution |
| Helen Walker | Actor | 17-Jul-1920 | 10-Mar-1968 | Call Northside 777 |
CAST
REVIEWS
Review by Marjorie Macuda (posted on 30-May-2008)
I saw this movie last night and loved it. Very much a film noir genre. It was beautifully photographed and every scene was interesting. Tyrone Power was wonderful and played the role in a very brilliant way. He was able to portray the character as a dark, cunning, opportunistic type person, but also as charismatic and likable. I thought, had he not played the part so well, the other actors in the film would have been crazy to fall for him and some of his cons. I have always been a fan of Tyrone Power. He was a gorgeous guy and great actor.
---
Review by Brett H. (posted on 12-Sep-2005)
I saw this a long time ago. It's considered one of Power's best performances by film buffs, though it's somewhat of a cult film.
Power plays a hustler who gets involved with the world of carneys, people that work in carnivals. This is not a nice man and he doesn't care who he hurts on his way up. Eventually he meets a beautiful psychologist, who proves to be much smarter than him. The film ends up with Power's character reduced to being one of those geeks that bites the heads off chickens(no joke). It has a classic line when one of the people trying to subdue Power, apparently "geeks" get very upset from all the chicken head biting, asks, "How does a man sink so low?" The response is "Perhaps by reaching too high"
Even though it's not a detective film, it's very much a film noir. Everything about the film is dark. All in all, an interesting movie definitely worth checking out if you're a Power fan, a film buff or a film noir fan.
---
Review by Adele McNamara (posted on 31-May-2007)
I did not select this film my husband did. Mostly because of the blurb at the DVD store which stated this film almost ruined the career of Tyrone Power. The noir aspect of the film is wonderful. Great use of shadows especially on faces which add mystery to the story. Most effectively in the beginning when 'Stan' is telling 'Zeena' how much he likes carny life; the slashes of black across his forehead seem to foretell the darkness in his enthusiasm. Tyrone is just beautiful in this film, much prettier than any of the females. His eyes are especially arresting. His beauty helps the dicotomy of his character. He has no empathy he doesn't care about anyone unless they are useful, which he admits, but he is still a likable character. I would say his acting was extraordinary in this film he does a wonderful job of making the story and himself belivable and interesting although it is not much of a story.
---
Do you know something we don't?
Submit a correction or make a comment about this profile

Copyright ©2019 Soylent Communications