Office Space (19-Feb-1999)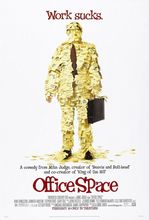 Director: Mike Judge
Writer: Mike Judge
Music by: John Frizzell
Producers: Michael Rotenberg; Daniel Rappaport
Keywords: Comedy




Peter Gibbons, disillusioned software analyst at Initech who does very little actual work, interacts with his coworkers in their dysfunctional workplace set in cubicle land. A pair of efficiency experts are brought in to help downsize the company; when it becomes apparent that some will lose their jobs, Peter and his friends hatch a get-rich-quick scheme. What could go wrong? From the creator of Beavis and Butthead, and based on his series of animated Milton shorts pieces from 1991, which saw play on Saturday Night Live.
CAST
Ron Livingston
... Peter
Jennifer Aniston
... Joanna
Stephen Root
... Milton
Gary Cole
... Bill Lumbergh
John C. McGinley
... Bob Slydell
David Herman
... Michael Bolton
Ajay Naidu
... Samir
Diedrich Bader
... Lawrence
Michael McShane
... Dr. Swanson
Richard Riehle
... Tom Smykowski
Alexandra Wentworth
... Anne
Joe Bays
... Dom Portwood
Paul Willson
... Bob Porter
Kinna McInroe
... Nina
Todd Duffey
... Chotchkie's Waiter
Greg Pitts
... Drew
Linda Wakeman
... Laura Smykowski
Jennifer Jane Emerson
... Female Temp
Kyle Scott Jackson
... Rob Newhouse
Orlando Jones
... Steve
Barbara George-Reiss
... Lumbergh's Secretary
Tom Schuster
... Construction Foreman
Rupert Reyes, Jr.
... Mexican Waiter
Jackie Belvin
... Swanson's Patient #1
Gabriel Folse
... Swanson's Patient #2
Jesse De Luna
... Cop at Fire
Mike Judge
... Chotchkie's Manager
Justin Possenti
... Spectator
Jack Betts
... Judge
REVIEWS
Review by Gantgirl (posted on 21-Jul-2007)
This movie proves it's possible to be hilarious and witty without being gross or profane. It's unforgettable in so many ways - who can forget the neurotic man with the red stapler, or Orlando Jones as a spaced-out magazine salesman, or the guy swearing at the printer which is giving a stupid error code which we're all seen but never understood? And what about the idiot bosses that most people have had at one time - Lumberg, who walks around with coffee and never actually produces work, or Jennifer Aniston's boss at the resturant ranting at her for not having enough stupid buttons (fringe) on her uniform? Ron Livingston was perfect as the burned-out computer guy who rebels. I read somewhere that when the movie came out, many people were going to Office Max to buy a red stapler! The humor is subtle, the script is brilliant, and everyone will recognize the characters as people they've known and worked with! This movie is a must see.
---
Do you know something we don't?
Submit a correction or make a comment about this profile

Copyright ©2019 Soylent Communications