Days of Wine and Roses (26-Dec-1962)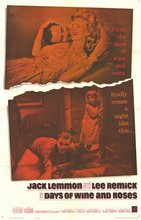 Director: Blake Edwards
Writer: J. P. Miller
Music by: Henry Mancini
Producer: Martin Manulis
Keywords: Drama, Alcoholism, Advertising




A San Francisco businessman descends from social drinking into alcoholism, bringing down with him his long-suffering wife. Based on an earlier teleplay, and one of few truly good films on the subject. At times unsettling. Won an Oscar for Best Original Song; received additional nominations for Best Actor, Best Actress, Best Costume Design and Best Set Decoration.
| Name | Occupation | Birth | Death | Known for |
| --- | --- | --- | --- | --- |
| Jack Albertson | Actor | 16-Jun-1907 | 25-Nov-1981 | The Man on Chico and the Man |
| Charles Bickford | Actor | 1-Jan-1891 | 9-Nov-1967 | The Song of Bernadette |
| Jack Klugman | Actor | 27-Apr-1922 | 24-Dec-2012 | The Odd Couple |
| Jack Lemmon | Actor | 8-Feb-1925 | 27-Jun-2001 | The Odd Couple |
| Lee Remick | Actor | 14-Dec-1935 | 2-Jul-1991 | Days of Wine and Roses |
| Maxine Stuart | Actor | 28-Jun-1918 | 6-Jun-2013 | Amanda Earp on The Rousters |
CAST
REVIEWS
Review by Alan J. Weiss (posted on 13-Oct-2007)
One of Hollywood's best films -- along with "The Lost Weekend" -- to depict the tragedy of alcoholism. Both Jack Lemmon and Lee Remick give amazing performances as a couple trapped in a downward spiral of drinking, from which neither can escape; one he tries, she brings him back down, and vice versa. This is a very intense and believable film that is tough to watch, but very worthwhile and incredibly well-acted, brilliantly written, and painstakingly directed by Blake Edwards. Truly one of Hollywood's best classsics, this film is highly recommended for the movie buff and acting student alike.
---
Do you know something we don't?
Submit a correction or make a comment about this profile

Copyright ©2019 Soylent Communications