Dolores Claiborne (24-Mar-1995)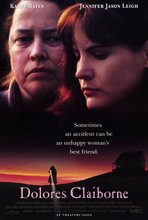 Director: Taylor Hackford
Writer: Tony Gilroy
From novel: Dolores Claiborne by Stephen King
Music by: Danny Elfman
Producers: Taylor Hackford; Charles Mulvehill
Keywords: Drama




A maid, once suspected of murdering her husband nearly twenty years ago, is presently accused of murdering her wealthy, elderly employer. Her estranged daughter hears of this, and takes leave of her job as a prominent reporter to find out what actually happened. Is she guilty? One of the best adaptations to film of a Stephen King novel. Exceptional use of flashbacks.
CAST
Kathy Bates
... Dolores Claiborne
Jennifer Jason Leigh
... Selena St. George
Christopher Plummer
... Det. John Mackey
David Strathairn
... Joe St. George
Judy Parfitt
... Vera Donovan
John C. Reilly
... Constable Frank Stamshaw
Ellen Muth
... Young Selena
Bob Gunton
... Mr. Pease
and
Eric Bogosian
... Peter
Roy Cooper
... Magistrate
Wayne Robson
... Sammy Marchant
Ruth Marshall
... Secretary
Weldon Allen
... Bartender
Tom Gallant
... Searcher
Kelly Burnett
... Jack Donovan
Matt Appleby
... Kid on Street
Thomas Skinner
... Kid on Street
Vernon Steele
... Ferry Vendor
Taffara Jessica Stella Murray
... Young Selena (Age 5)
Susan Lane
... Crying Girl
Frank Adamson
... Detective Supervisor
Ed Rubin
... Detective Supervisor
Sandy MacDonald
... Sheriff
Dean Eilertson
... Moving Man
REVIEWS
Review by Gerard Veldhoven (posted on 31-Dec-2008)
Dolores Claiborne is without exception the best movie I have had the pleasure to see in a long time. Of course, the fact Kathy Bates performs in it makes it a film worthy of special acknowledgement. Director Taylor Hackford certainly knows how to keep one's attention glued to the action and the human involvement of all the characters. The story line is brooding and filled with many consequences that makes the movie hold your attention from beginning to end. Of all the movies I have seen based on Stephen King stories, this one is at the top of my list. The characters are well-defined and so real. The interaction between Dolores and her daughter, played by Jennifer Jason Leigh, is so deep and yet so distant. Kathy Baters should have been nominated for an Academy Award, and that oversight is one of Hollywood's unfortunate mistakes. Leigh also deserved a nomination. As Roger Ebert noted in his review, "Bates and Leigh make Dolores Claiborne grand." Christoper Plummer, Judy Parfitt, Ellen Muth and David Strathearn were outstanding. Muth was perfectly cast as the young Selena. Bates and Parfitt uttered some of the film's best lines. Plummer always can be counted on for a top notch performance. I believe David Strathearn, as the abusive husband of Dolores, played his role in a way one would expect a rotten husband to be. Filmed in Nova Scotia, this movie has what it takes to make a great piece of cinema. Now, 13 years later, it remains one of my favourite films.
---
Do you know something we don't?
Submit a correction or make a comment about this profile

Copyright ©2019 Soylent Communications